Resprayed the Z50M's fuel tank again this morning, should be the last time I need to do it, then went out for lunch with Yen, right after finishing the noodles Mom & Dad got me for breakfast, met TK and S at McDonald's during lunch with Yen too! After the meal, Yen wanted to buy apple pies for herself and Liz, but there was a sizable line at the counters, so we took her car and went around the Drive-Thru instead; annnnd, we got our orders after than the customers lining up inside :D :D
Dropped Yen off, then rushed back home as the others were waiting for me, also made it home in record time, for daytime :D Busy playing Crazy Planets on Facebook, lazy to type, so photos deluge it is!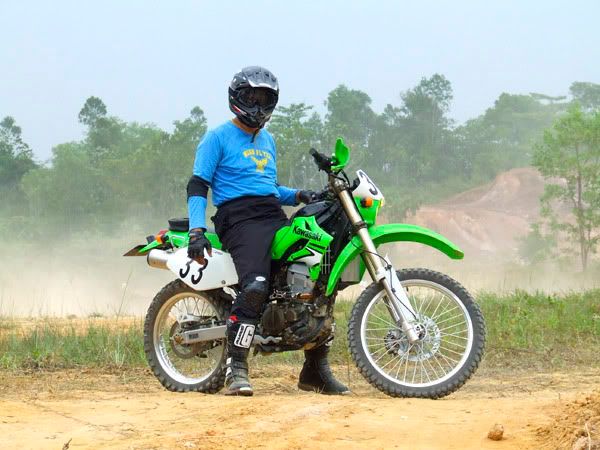 Kai Ye on his new KLX250. I think it was barely 6 weeks ago when he got this bike new and let me test ride it, yep, still minty fresh!
There was a pretty nice turnout!
Dad is amused that these machines from his time are still jumping around, yay for Japanese build reliability!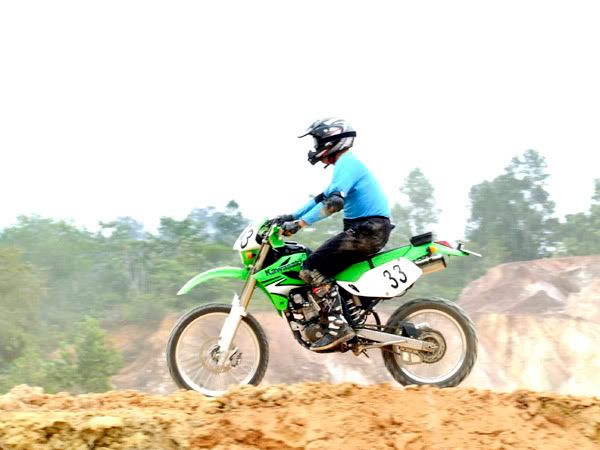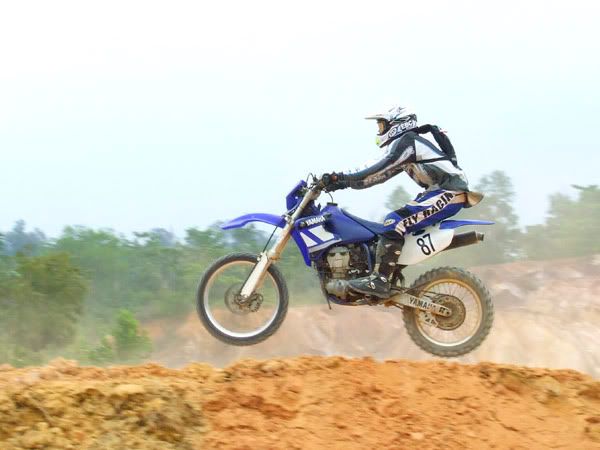 What does it say on the pants?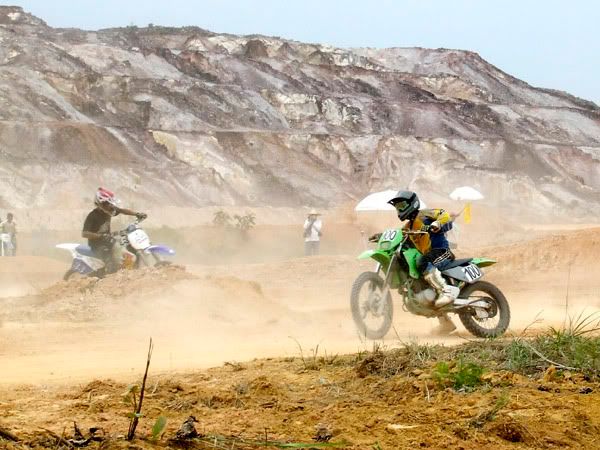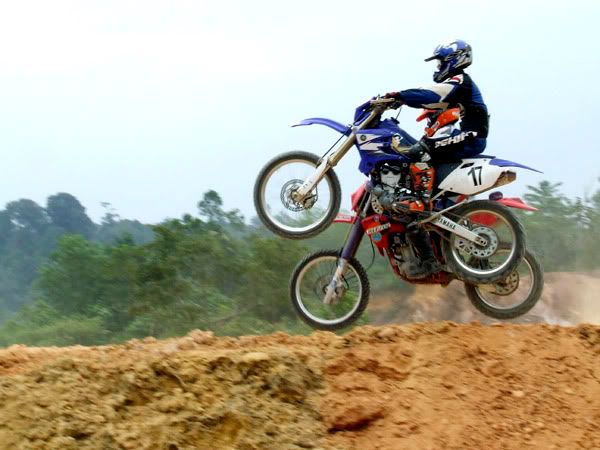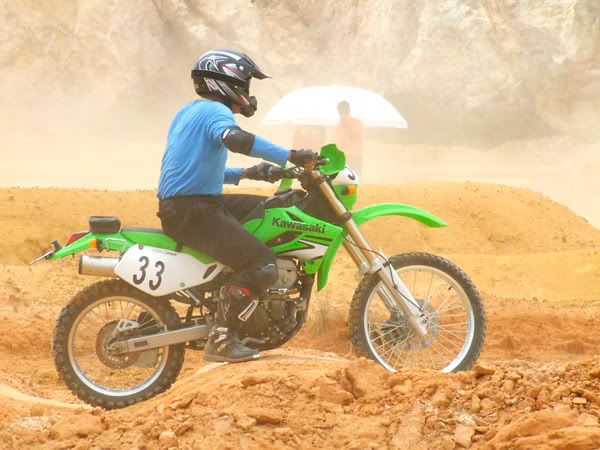 Not the best, but probably my favourite pic of the day.
I was just done snapping some pics when I looked opposite me and saw this: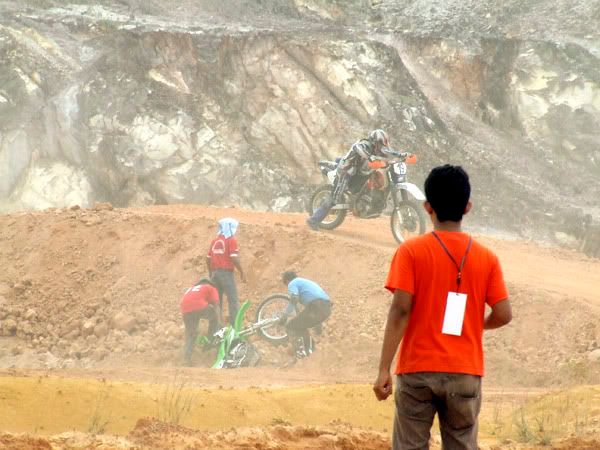 LOL! Kai Ye barely made it for 2 laps before he slid off the side of the second hump, so much for minty fresh, and I guess I gotta readjust the steering for him again come Monday! Haha, it's ok though, he hasn't rode in ages, and had just a few laps of practice the previous week, so this wasn't totally unexpected. I gotta say I respect him though; for not really having rode seriously in his youth, and at the age of 61, this isn't exactly the easiest motorsport one can get into, street and track racing maybe yes, but jumping around on a dirt track not so much, and the next oldest competitor is only 38 haha! I also like how he was just toying with the thought of dirt biking, succumbed to temptation and bought a bike only 3 days later, and brought his new bike to trash around less than a month later, this man is serious :)

Kai Ye rode his bike over, while his subordinate drove Kai Ma over in the Jeep!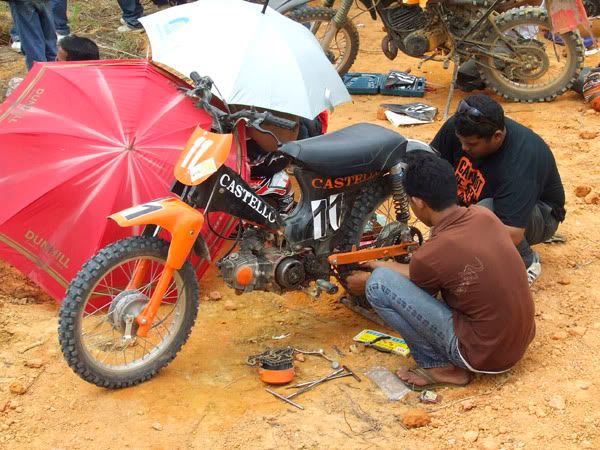 I heard a very familiar engine note and turned around to see this Honda Cub, modified for the dirt! Nice, it's using the same 90cc engine in our Z50M! There was another similar one a few feet off too!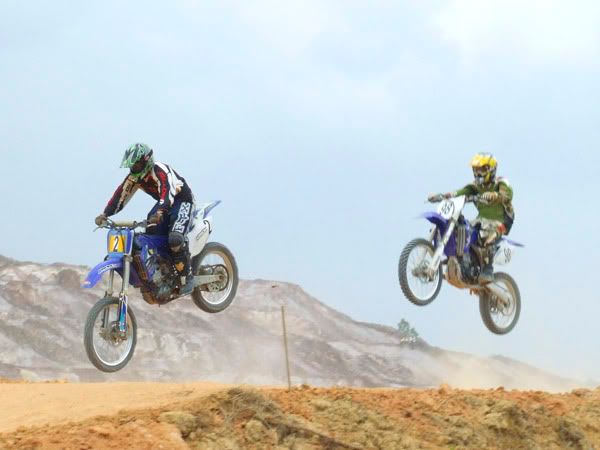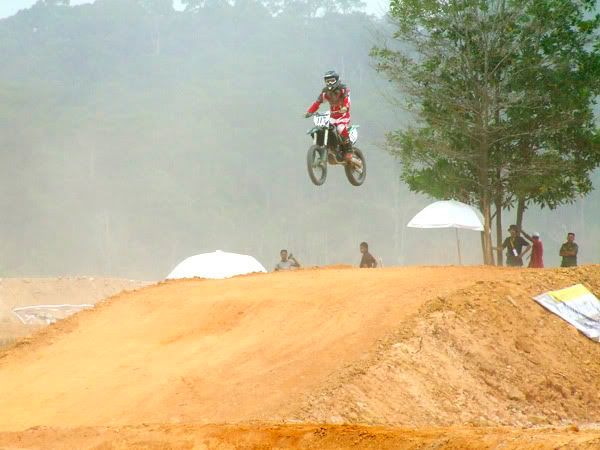 As the main events got on, the jumps just got higher and higher!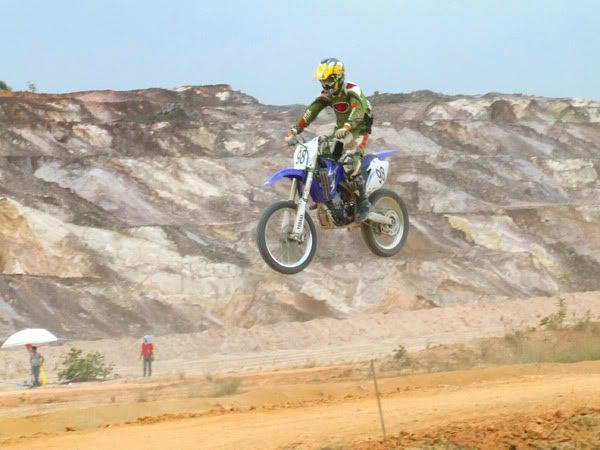 And higher!
And higher! Weeeeeeeeeeee! The number 117 and 98 bikes were pretty fast on this hump, making one huge leap whilst the others continued to make two small jumps. Sure looks fun!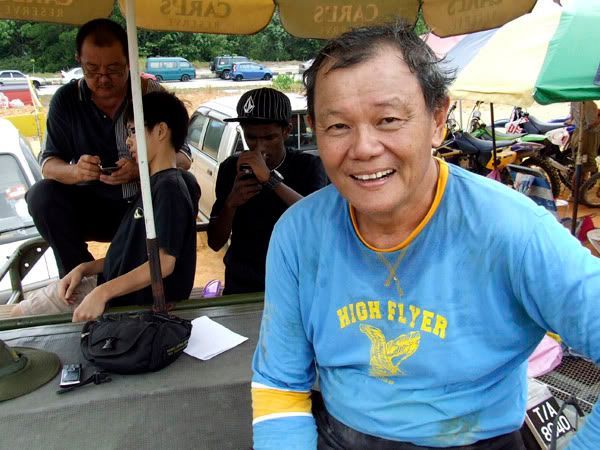 Back at the Jeep, Uncle Kim Kooi is busy copying the video of Kai Ye's slide down the slope via Bluetooth!
Yep, they could still go higher!!!
I wonder if the riders themselves go "Wheeeeeeeeeeeeeeeeeeeeeeeeeeeee!!!!" whenever they catch big air? I think I would :)
It was a fun afternoon! We went home at about 4pm as Dad and Uncle Kim Kooi had a dinner to attend. It rained a bit during the last race so I threw my muddy sandals into a plastic bag and got into the car, with mud still sticking to my arms, gotta get all that dirt off my camera too! Too tired, I slept through the whole journey home :D