Went for drinks at Moon River last nite, me, Fanny, Poh & Sauw Leng. Apparently it was a busy day for the others because the rest couldn't make it. Shot time talking about insurance, life, camera people, fruits, Japanese AV, gwai los, travel, cars and other random stuff. I know, so incoherent :D
Yen got me this clear document holder today! It is, from Giordano, I think? Haha I like the illustration!
We had dinner at Kizuna tonight, me & Yen ordered Unagi and Salmon bento respectively, nice stuff, Unagi bento, if you can handle raw meat, the fish is fresh and flavourful :) I know you had lotsa awesome food for the whole week in Australia, GPY, so diam a bit, don't make me hungry again :D
Went to Jusco after dinner cuz Yen wanted to take sticker pics, and I wanted to walk a bit after stuffing myself with bento and sushi rolls anyway. We did just that and ended with quite a few spoils too!
You can't really see it; but the front pocket's on Yen's overalls was full with capsules!
Pipe and Boo mascot banks from the Super Mario series! I like everything but the Pipe in the series. I'd love to get em all, we'll see!
BOO! Cute! I wish it is covering it's eyes with it's hands like in the videogame!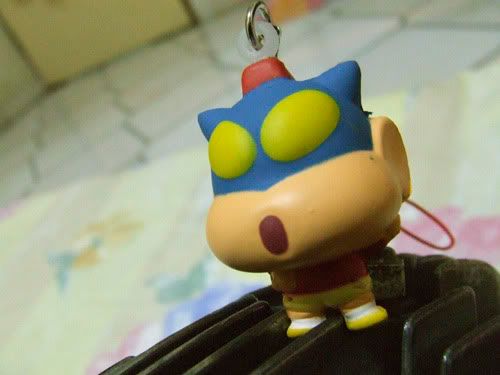 Action Kamen Shin-chan! He's afraid of Boo though!
"Maybe the ghost wouldn't be able to find me if I stay hidden in this pipe"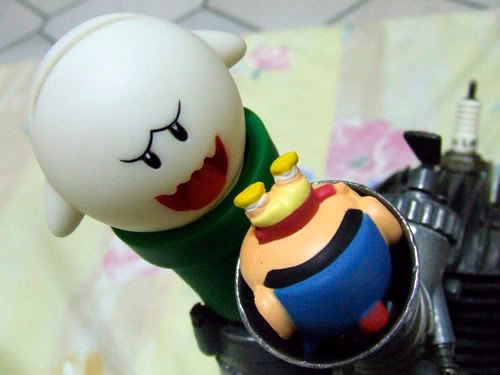 "BOOOOOO!"
"Warghhhhhhhhh!" *falls into long pipe"

Apparently not :D