I love the styling of the Xantia, especially the side and rear profile, but sometimes I can't help but notice that the front fascia looks a bit dated compared to it's Peugeot twin, the 406, and I'd told some friends how interesting I think a Xantia would look with a 406's face. Anyone ever noticed I rarely take frontal pics of the Xantia and all you ever see is it's sides and butt on this blog? Well, today I saw that someone has took the concept to reality with the smaller siblings :)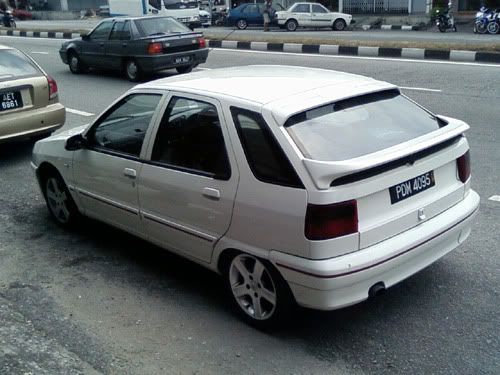 Saw this hatch this afternoon. Just a normal ZX, rite?
Haha, but what's this? Apparently the owner have swapped the fenders, hood, headlamps, bumper and grille from a Peugeot 306, the ZX's twin, notice that even the Lion badge has been replaced with the Twin Chevrons :)
By the way, you cannot just make every other Citroen look better with a Peugeot face swap though; some, like the XM, are absofarkinglutely PERFECT, untouchable! I just hope I don't see one with a 605 face, XM face on 605 would be as bad!


While I still prefer the 306 hatch compared to the ZX, it does look nicer than original; the 306 and 406 both came out 2 years later compared to the ZX and Xantia respectively, so naturally they look fresher, and I doubt many will notice the not-so-subtle differences, so it probably doesn't attract too much attention, nice! You might see it a bit in the first pic, and the dashboard isn't the ZX piece anymore. I had a quick glance and it is a 406 piece with a late model Xantia steering wheel. It's not mindblowing, but hey, it makes me warm and fuzzy inside knowing that someone out there has such an interest in these french oddities too :)