Not much, but...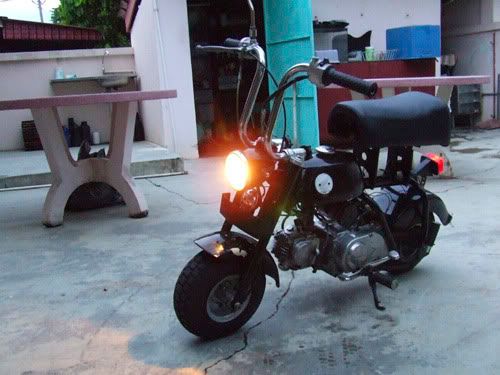 Lights on! Also reinstalled the horn and front number plate thingy!
So we found out that the starter switch is conkers and wouldn't allow current to the lights, and a replacement is hard to get, but I was determined it'll have lights and I shall go riding tonight! Soooo, I did a heck of a hack job and hardwired the lights. Engine on, lights on, engine off, lights off. Simple, no need for switches, just like normal kapcais. The light bulbs will burn out easily without a rectifier, Dad said. I thought if it was fine originally without a rectifier it should be fine now, but then he mentioned something else about different coils with 50 n 90cc engines, and I remember the light bulbs burning out easily the last time it ran, even when it's running higher voltage bulbs. Don't ask me, I'm a complete noob with electrics, so I just made a removable joint for the light circuit to keep the bulbs safe until a rectifier joins the circuit. For now I'll just snap em on when I need lights :)

I've finally found out where all the petrol is leaking from: turns out petrol was backflowing out from the carburetor's reserve fuel inlet, which wasn't connected because there isn't a petcock with the tank anymore. Easy fix, just stick another fuel line to it and some random plastic bit into the other end to arrest the flow. Done!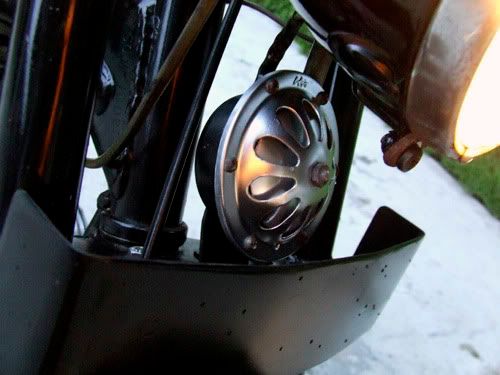 There's a knockoff Vespa horn Dad bought for the bike, but it looked fugly, so I just machine-brushed the original one and gave it a few layers of chrome. I've almost given up hope on that can of chrome when my scale model car engines wouldn't dry. Apparently it doesn't work on plastic :p Doesn't look too bad now huh? Yep, it doesn't work, but I don't really mind :p
I just checked some old pics and noticed I fixed the number plate thingy the wrong side up. Whoops, fix that tomorrow :p