Happy Bear asks: "What makes you so happy?"
Well, what makes you so happy?
Today, my answer is...
...this!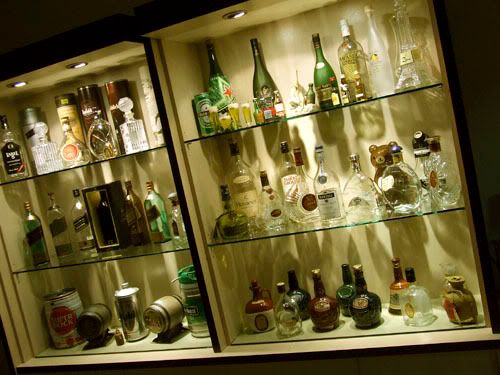 TADAAAAH!!
Dad scored this relatively new and rarely used display cupboard yesterday! It was effin heavy and huge! It was also effin huge and heavy! So huge it wouldn't fit into our own teeny 2-tonne lorry, so we had to rent a larger one. So heavy 4 strong men (Dad, Uncle Kim Kooi and Weng Kar, lorry driver) and one weakling (me) nearly strained our backs hoisting it up the lorry.
We moved the cupboard into the house today, fixed it up a bit, and went about transferring my bottle collection into it! Yep, I collect bottles! Unless you drink with me a lot, don't be surprised you don't know that even after having known me for years hehe, probably the only ones who know are the uncles I always drink with :p
I mentioned fixing the cupboard a bit; it was too heavy to be lifted up in one piece, so we took off some pieces to facilitate transport. This in turn left the cupboard structurally weaker during transport, and like I always say, whenever possible, things that can fark up, will most possibly fark up indeed. So, part of the top tier came off and fell on the road. Thankfully no cars or bikes were behind the lorry at that time; having wood the size of Rafidah's ass going for your face at 70kph probably isn't funny. Unless you're just a passerby, of course.
2 living rooms = more space to put junk! YAY!
Here it is now. The centre and right sections of the top tier fell off. Thanks to super-duper-ultra-deluxe-megazord good luck, the centre part came out of the ordeal pretty much unscathed, and we managed to put it back nicely today. The right part should be good too as soon as we replace 2-3 minor panels. The final step should be to add glass doors up front to keep dust out. And itchy hands.
This is from Dad's collection, super old, probably been around before I was even born. 太公钓鱼,愿者上钩. Kiong Tai Gong go fishing die die also must bring along a gigantic bottle of Martell can! The bottle was never opened but the liquor inside have all evaporated or something, it's totally dry inside. Dammit, Kiong Tai Gong drinks a lot! I think it's gonna be likewise with my other mini bottles of whisky, but what to do, I cannot bring myself to open and drink em *shrugs*.
Papa Dimple and Sonny Dimple! Btw, isn't that square crystal-like bottle with the knob top gorgeous? Dad used to have lots of those, but we only have two left now. Damn, not just cars and tools, they just don't make bottles like this anymore these days.
Hehe, and lastly for now, the Dunhill Speyside Blend!
Yea, THAT Dunhill. They figured if they couldn't kill you by damaging your lungs with ciggies, they can try the liver instead :p Nice bottle though, it's one of my favourite from my collection!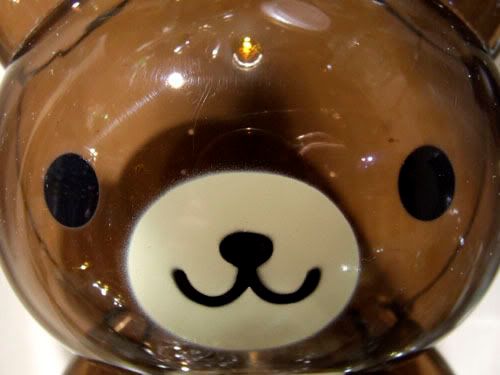 HAPPY!
See if you can spot Happy Bear in pic 2 and 3 first! Winner gets a pat on the head from me! Or a kick in the ass, your call!