Not everybody knows I like Cars! Well, cars in general, yes, but Cars, the Pixar animation, not everybody knows that, except for the few who saw
this
:P

Was at Jusco shopping for birthday and Christmas gifts with Yen this afternoon, long story cut short, came home with more wheels :)

So without further ado, we have...



TADA!! Lightning McQueen and Lightning McQueen!!
I'm gonna pretend that I actually have many blog readers and they have all watched CARS, so there'll be no need to explain why there are two versions of him. (If you really do need an explanation though, watch the movie!)
This is like one of those comparison pics we always see between a roadgoing car and it's race version in auto magazines :p
I appreciate the effort that went into making the rims at least resemble the real thing, it's the detail I like most!
Oh, anyway, the Corvette-ish McQueen actually comes in one set with Sally Carrera :)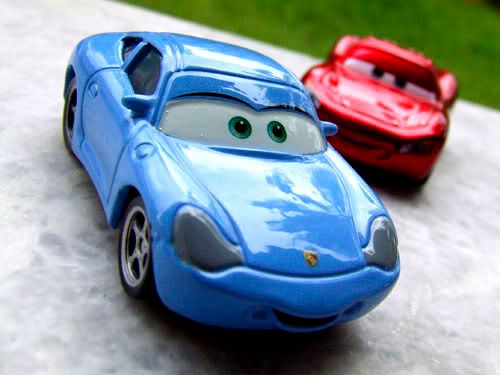 Yes, Sally Carrera is a Porsche Carrera. Like you need to be smart to figure that out.
I'm disappointed the makers did not include the pinstrip tattoo at Sally's lower back. Not that I like pinstripes, at all, but it'll be a nice nod to the movie scene. Anyway I should photoshop a moon or sunset over in front of them in this pic, but I'm lazy :p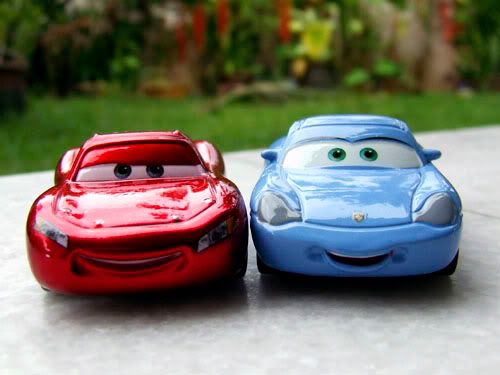 I like the deep burgundy or whatever colour it is, reminds me of wine, even though I can't appreciate wine.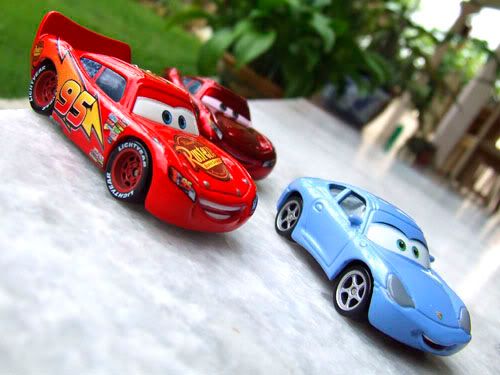 Just pretend that there's actually lotsa flying dirt, tyre smoke, and that they're actually drifting, just imagine.
Yay, money gone, more useless metal gained, happy!!!