I'm very sad of what happened to the Multipla last night.
As of 2 weeks ago, the Transit has been sold to Uncle Lai as we've hardly any use for it anymore. I miss it.
Uncle Kwai drove 1612 back for a visit today. It was in horrible condition. I feel sad for it.
Got the V230 back today and finally had time to check it out real as well as drive it. Lots of creature comfort and amenities in the car, it will double up real good as a people carrier or goods transporter, too bad you really can't expect anything nice aesthetics-wise from the Germans; the exterior is bland and the interior is fugly as hell.
While checking out the car, I noticed something though: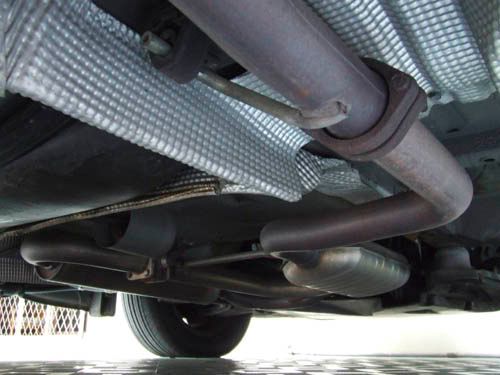 CHI SIN!! That's all I have to say about the undercarriage. How could it be so clean?!!! Siao man, I thought it was already weird that all the interior carpets are still wrapped in plastic, but even the undercarriage looks so.. NEW! Madness! The van is in incredibly immaculate condition. Recall those "Must see to believe!" claims in Motortrader? Some things need to be seen to be believed.
Anyway, I mentioned I drove the van too, so how was it? One word: sucks.
OK, one word is not enough, I'll elaborate a bit. The steering is numb. The slippery seats offer no lateral support at all, trying to throw me off at every corner. The auto gearbox is stupid. I knew from the get-go that it's no match for Citroen's Hydractive awesomeness, but the Airmatic suspension is epic fail; it couldn't even absorb small bumps properly, even the Multipla and Transit absorb bumps better than it, and they handle better too! Speaking of handling, I think the V230 seriously lacks in that department. It has no cojones in corners. Mou chun doi. Tarak bola langsung. What a wuss. Or maybe it was me. Anyway, it made my balls shrink in the corners, I didn't enjoy the drive. End of rant. At the end of the day, I'll still drive it when I've no other choice. Beggars can't be choosers :p