Just jesting! Bro didn't come back, and Dad wasn't home yet on
Sunday night
, but now that everybody's around to accompany Sis, we had a second round of lantern lighting!
The ghostly green blur in the background is Mom walking over with her newly-lit lantern ;)
It was hard to get a proper pic in the dark during the previous years, but the street lamps are out tonight, making the darkness even greater, so I got everyone to light candles up all over the place to provide some ambient lighting! Damn, took me long enough to smarten up a wee bit, should have thought of this ages ago!
Even though it's slightly blurred, I like this 2 pics a lot, must be the best family pic's we've taken in a long while :)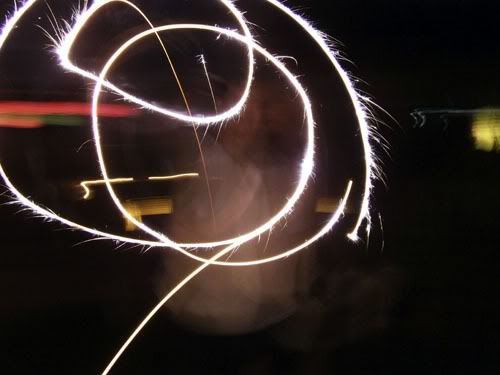 Dad having some fun with some fireworks. I've stashed up these up for years and promptly forgotten about them; Dad found em while cleaning a few weeks back! The louder ones still make quite a BANGGGG!!!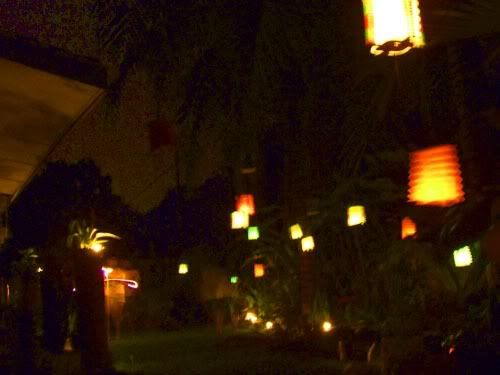 Candles everywhere!!
Mom, working swiftly to light all lanterns up!
Bro got greedy and lit up many fireworks at once!!! He stuck a 冲天炮 into the ground and proceeded to light it up. It was stuck too tight, couldn't lift off, and exploded with a huge bang!!!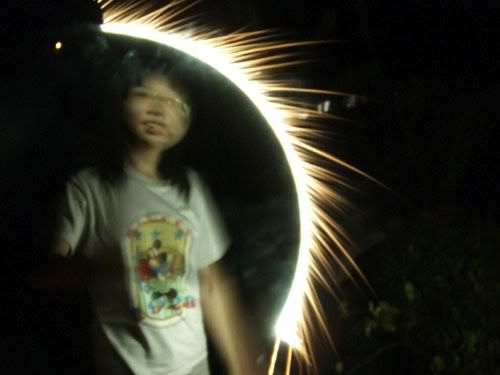 Weeee! It was a lot of fun, wish we could do this a lot more often!!