Ivan's birthday falls on 31st August, so we threw a BBQ party at Shen's house on the 30th, Saturday night!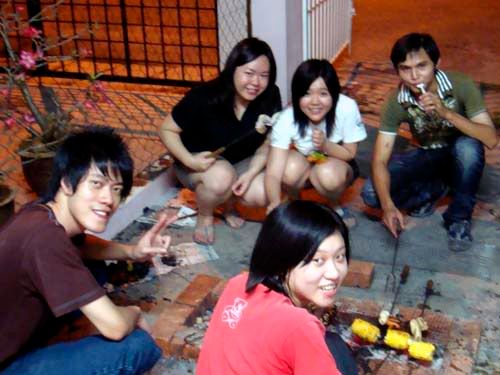 Lots of people, lots of food, but only so much grille-space!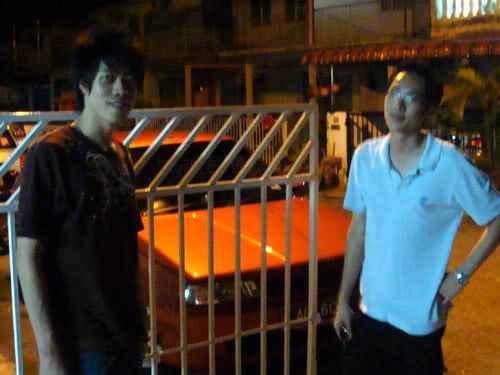 Zheng Wei and Nicky trying to catch a breeze out front
I didn't know sparkling juice can make people tipsy, but apparently it made Poh and Yen so.. here's them doing the chicken dance again :D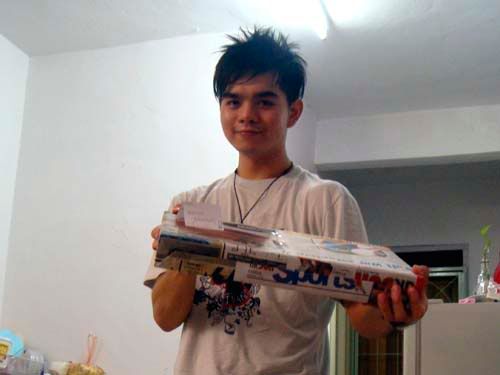 Ivan with his gift from Eric, just look at the wrapping, now that's good reuse of newspapers!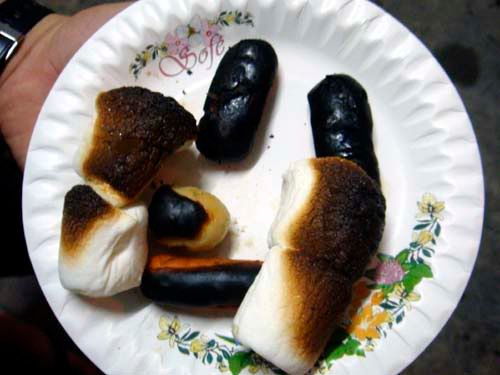 Ivan's hardwork. Those disgusting black coloured cockroach-like things? Sausages. Ivan's a good cook, his future wife is one lucky woman.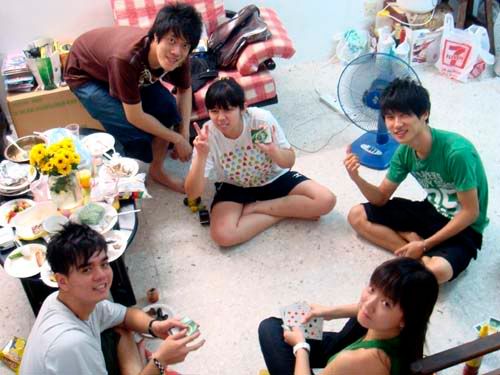 Having fun! Card games are especially exciting when everybody's lousy at it!
Potato serving potatoes :p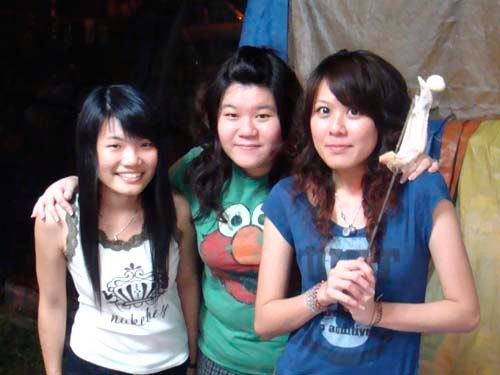 Ye Huai, Ying, and Wendy, protector of the chicken wings!
I joined in the games after bringing Wendy over! I was doing ok all the while, but luck left me during the last rounds and I was forced into a sudden death battle with Jessie!! Loser eats Ivan's delicious black cockroaches!! Gah!!!!!!! Apparently, both Jessie and me are equals on the duntoi scale, so the final bouts lasted quite a while. I won in the end, but the cockcroaches were spared though, maybe next time, I think they looked pretty delicious, Jessie will like em :D
It was getting late, and it's twelve o-clock, so we got the cake out!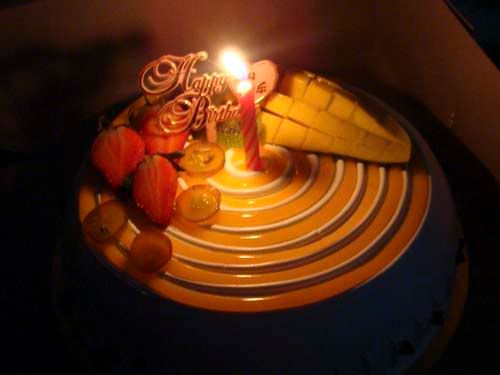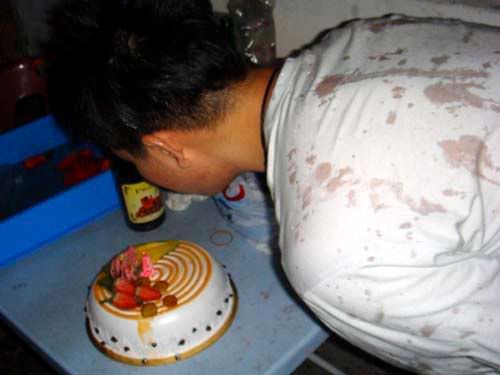 Poh tried to shoot Ivan with sparkling juice. Ivan ran. To the living room door. Poh shot. Ivan got shot. Living room also got shot. Yeah!!!
Everybody: "....Shit!"
Shen: "...die lar, dirty all already my house... my house... my housee...." *continues to burn her chicken wing*

Cleaning up. This is what we all call, dai sei :D Poh cleaned up the floor all by himself while me, Ring and Shen took the difficult job of *gasp* wiping the windows and doors :p
Gift presentation ceremony thingy again!
Yes, not one, but two piles of shit! Small and large, brown and black, so that Ivan can choose what shit he wants to hug to sleep!
Turkey drew the T-shirt. The canine head looked a bit like an overturned sock. Oh well, turkeys aren't known for their drawing skills.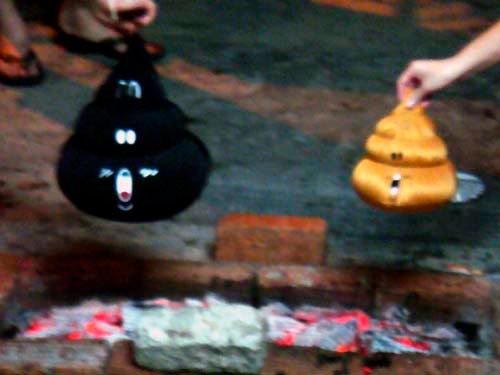 I think they just might be tastier than Ivan's cockroaches.
...and Poh is still cleaning!
Well, it was late into the night after that, so we cleaned up and whored out Wennice's camera a bit. Poh and me run up and down the stairs to arrange boh liao shots like this:
this,
this,
this,
and this, so that some boh liao people (read: me) can do...
THIS: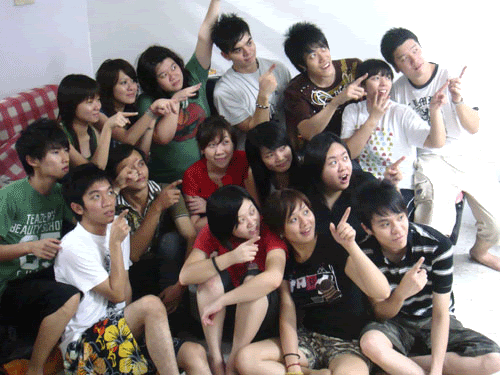 BBQ parties are fun, we should do it more often!!! Food, drinks, games, friends, it doesn't get much better :)