I've been building again! Darren needs a 1/24 car in red to accompany his display, but I haven't got a completed one!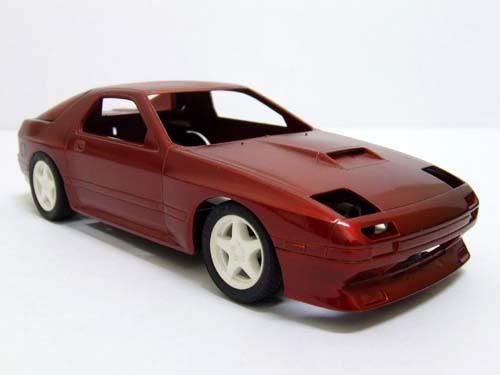 The only red car I have right now is this one, and it's not even near completion! It's been sitting like this since March, though I've since chopped and mashed some suspension parts from an Aoshima FD3S chassis to add more details to the crappy generic Fujimi chassis this red FC3S body is sitting on. What can I say, the rear wheels stick out lots now, ain't hella flush like in this pic anymore, and I've a lot of work ahead of me with this one, so I figured it'd be easier for me to speed build another car.
Then I saw the C3 on my shelf, and I remembered the first Stingray that caught my attention was red. Red! Yes, the C3 Stingray shall look awesome in red! And so I got to work!
Front suspension bits, speed building means skimping on painting some pain-in-the-ass parts. Not that it matters, those parts are gonna spend most of their time facing the ground anyway.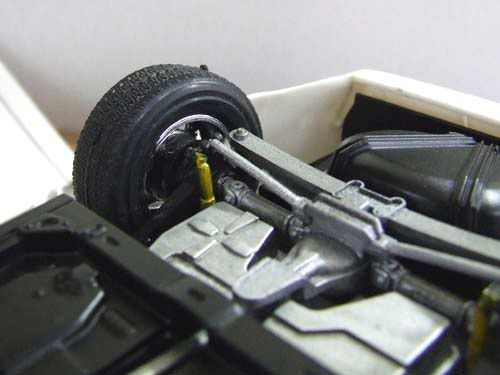 Rear suspension. Heh, it was pretty interesting to say the least; it's hard to see here, but C3s bounce on leaf springs at the rear, how primitive, didn't know that until I built that part. Educational play :)
Not much to see, saving the exhaust pipes for last!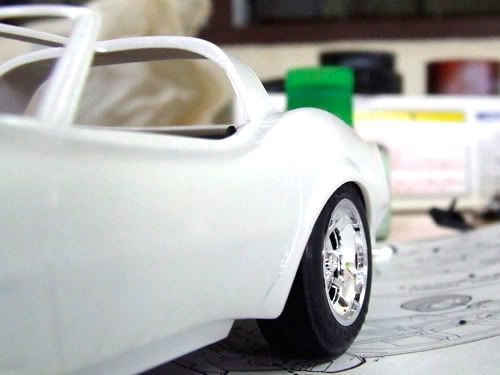 The rear suspension was a bit of a pain to put together, but it was quite rewarding! The complicated and slightly fragile structure allows you to adjust the camber of the rear wheels! I had a lot of fun getting the negative camber to look right without lowering the rear too much!
The model's original stance sucked too; the wheels are all too far into the wheel wells, so I did some work with the wheels and had the wheel arches filled out nicely!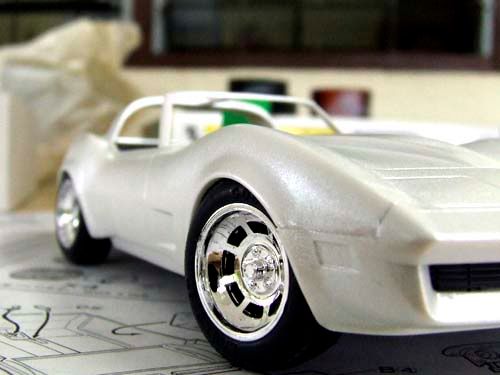 Wheel fitment, the proper way :D
Pearl paint + bling bling = dazzling!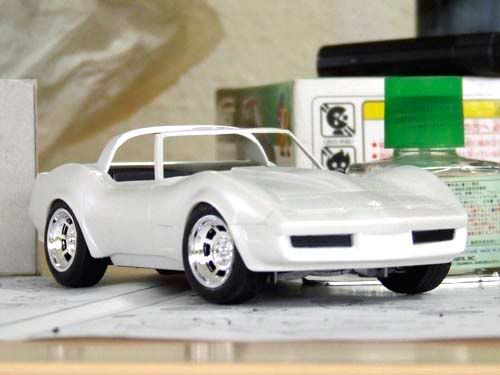 I'm gonna smother it in Candy Red later, until then, its gonna be Pearl White. Hm, gotta love the C3 in this colour, I think the colour works better on it compared to the Karmann Ghia, but I've my mind set on a red C3 now :D
Karmann Ghia. This one's definitely staying in this colour!