Went to have the front brake pads on my car changed yesterday morning, I could already hear metal on metal, no wonder braking response had been slow in the past week :p
I went early (first customer of the day again!), and a full-bed tow-truck was already there. The truck driver proceeded to unload the "patient" from his truck.
I knew these trucks could lift themselves up, but not this high!! First time I've seen this. I'm so kampung, I know :p Well, in any case, it couldn't be helped as it's payload was a Citroen XM, a super-low spaceship on wheels :D
LOL, questions, anyone? I don't get it either. Apparently, the owner hit a tree, but the front fascia looks pretty intact eventhough the hood had transformed into an artistic ornament. Dad reckoned the tree must have been a sleeping one, I imagine the car was flying, one side up, when it hit a perfectly vertical tree. Hey, it's a spaceship!!!
I reckon finding replacement lamp lenses for this car would take some effort. Choi Hoong likened these cars to dinosaurs, so old and rare, lol! Her shiny blue 2.0i Xantia is in the background!
Dad missed the chance to acquire a very immaculate example of the XM a few months back. The older and larger sibling of the slightly more modern Xantia, I've always been awed by the XM's styling; I remember the first time I saw a red one at the Jalan Tokong / Jalan Leong Boon Swee intersection stoplights, I was new to driving then and didn't know much about cars, so it stunned me that there was a car shaped just like a Xantia, except it's longer, wider, lower, sleeker, has a spaceship butt, looks more elegant, and is many times more badass! I just stood rooted and gaped in awe until the lights went green and the car floated out of sight, such a beauty! One day, I'll roll around in one of these!!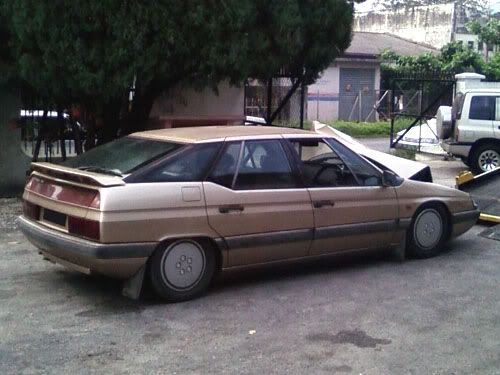 I like the wheels on this XM. There's a small catch towards the edge, so I guess it's one of those rims with huge central covers on it, very typical of Citroens and Peugeots from the 80s, definitely fitting for the vision of a futuristic and space-age concept, in the 80s!
...maybe Santa will drop me one if I'm being a good boy this year, maybe, here's hoping :D