Uncle Seng's coffeeshop opened for business yesterday!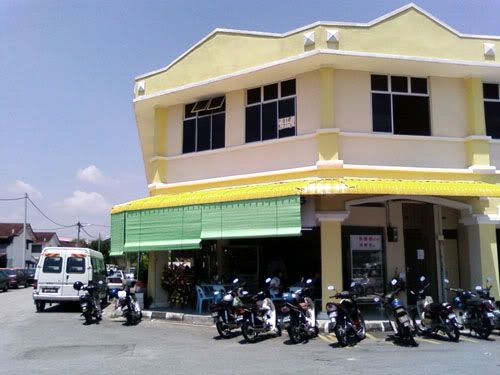 No signboard yet, but the name is Sin Yuan Loong (copycat, I know)!
A lot of relatives were there to help, and business is brisk!
Apart from relatives and friends, there were also a lot of fresh customers, which is good, and they didn't stop coming even late into the evening: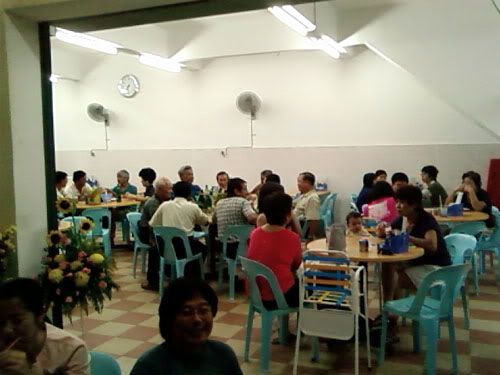 They've got Bak Kut Teh, claypot chicken rice, chicken hor hee and other varieties of food there, but my favorite is Uncle Fatt's roasted duck, roasted pork and charsiew!
Roast chicken, notice the nice goldish colour on the skin? Uncle Fatt makes steamed chicken too!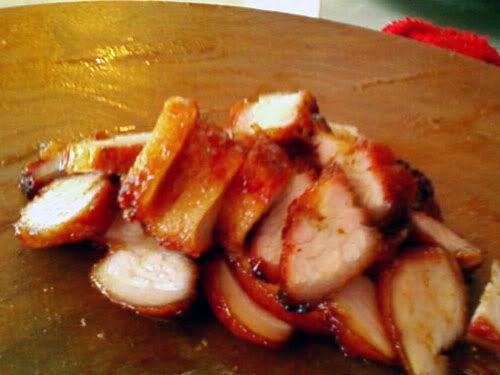 Delicious charsiew! I couldn't get good pics of the roasted duck and roast pork, but those are very delicious, you gotta try it!
The coffesshop is located at Dataran Kledang Timur 8, or maybe it was Laluan, hm, damn, I should have taken a pic of the road's name sign too, but my phone was out of memory!
Anyway, if you're coming from town and Jalan Lahat, go right at the traffic lights and head straight, then take the left turn after Fulim Restaurant and the next set of traffic lights. Go ahead and you'll see the shop at the end of the road!
If you're coming straight from Jalan Lahat and didn't make the right turn at the traffic lights, make a U-turn at the groundnuts roundabout, go straight heading back towards town, and take the left turn. Go along the road until you see Shell petrol station on the left, turn left after Shell and you're there!
My directions could be very vague since I my sense of direction sucks, so it's 4°34'34.94"N, 101° 2'50.43"E for GPS users. Man, Google Earth and GPS are so convenient, maybe I should buy one. Anyway, do drop by if you're in the area, and try the roasted duck, good stuff, I tell you :)