Saturday evening, about 1811, I was supposed to leave for Menglembu, but I ended up going a whole hour late because of a heavy downpour. Not just any downpour, I've lived in the neighbourhood for 13 years and have experienced rain with very strong winds, but this is the scariest downpour I ever encountered, it was so scary that for the first time ever, I didn't even dare step out of my home.
Here's how things looked like outside during a milder phase of the downpour. I was talking with Yen earlier over the phone, looking outside, when a Hyundai Elantra passed by opposite and sparks flew by it, another Wira passed by, stopped, hazard lights on, then sped away again. Then I saw the power cable swing down, causing a blackout.
Weird, but I swear the lights went off about 2 seconds after the cable fell, not before... Anyway, as the water on the road in front of my house is about 4 inches high, and Yew was coming over anytime soon, I frantically called to make sure he didn't come, there was a great risk of electrocution out there.
Me, Bro & Sis waited another half an hour when the rain momentarily turned into a drizzle before making our way to the car.
Things weren't much better on the way out, the street I live at has totally been blocked by fallen trees and is impassable, and even the alternate road has been partially blocked. The scene was kinda surreal, trees fallen everywhere, blocking roads, leaves and debris everywhere, suddenly, I couldn't really recognize my neighbourhood anymore. I got home at about 12am and the street was dark as the row of houses where I live in have been left with no electricity. The other houses with electricity, well, they don't turn on their lights much. Fortunately, the clouds above cleared soon enough and the moonlight was unusually bright that night, so all is well :)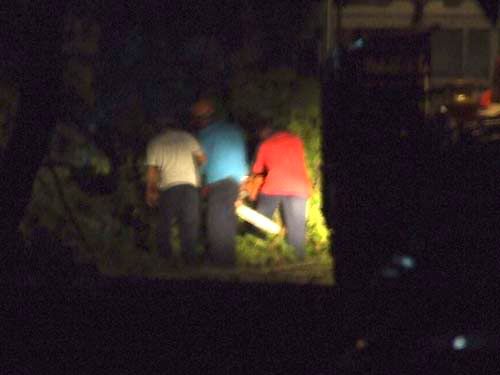 At about 1am Sunday, some personnel from TNB arrived and started clearing the trees to facilitate repairs.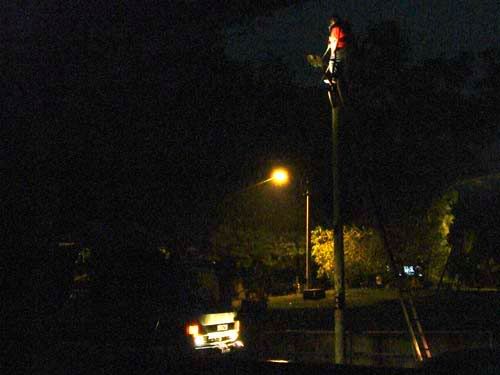 2am, and finally they're starting to reattach the power cable.
Reattaching the cable was a lot of work, and it took a long time, even the sky has lightened up a bit: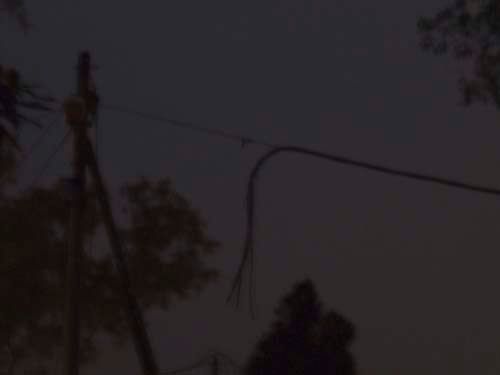 The cable, already up there, but still not quite close enough to the terminal. It was too heavy for the 6 men to pull, so they hooked it to a thinner cable, which was in turn attached to the truck's front hook, and they reversed the truck to haul the power cable up. Lots of trouble this job; the men had to cut more tree branches and retry a few times before getting the cable clear up there.
I got sleepy, so I went back to sleep on the living room couch, while Dad has been snoring loudly on a mattress in there for ages :p I woke up when I heard Bro, Sis & Yew coming back after watching Wall-E.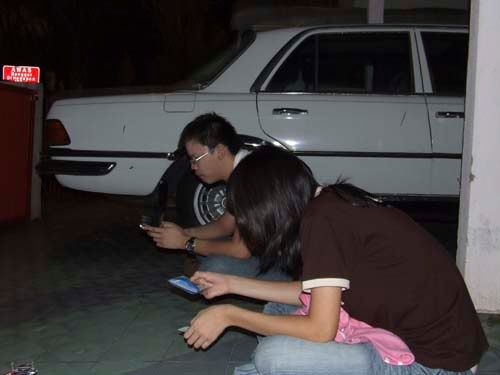 3am, and we were out there watching the men work, eating strawberry-flavoured Rocky sticks. Bro's playing with his phone while Sis is examining the watch she got for free with her purchase of popcorn.
It got boring again soon enough and I went back to sleep in my room; the men had left to fix the cable at another end. At about 4:04 am, I was awoken by the sound of fans, lights and aircon coming back on, woohoooo, the power is back!!! Well, not that it really mattered then, cuz the weather was cool and everybody's sleeping, so fans and lights weren't that necessary. Still, gotta give credit to the TNB men for their help, 3 hours in the dark, damp and cold just to reattach one cable, earning a living's really not easy. I'd intended to give the men some drinks for their hard work, but they were already gone when I went out again, oh well, I was too blur to remember things like that at 3 in the morning :p And ever since they fixed that cable, ALL the streetlights have stopped working. Zilch, nada, zero, all not working, it's dark, it's cold, it's wet outside now, every night, I like it!
Well anyway, the sky brightened soon enough, so when Yen came over, we went for a drive around the neighbourhood too see the damage: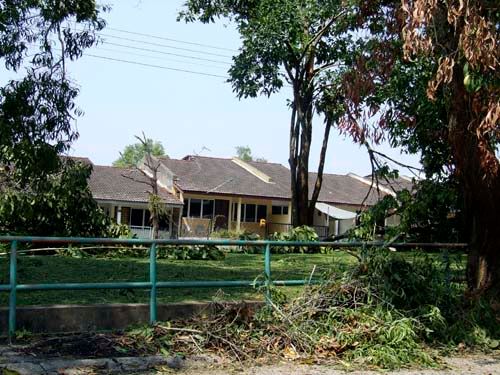 Fallen trees...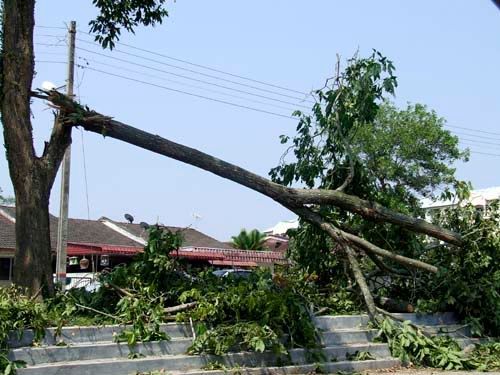 ...more fallen trees...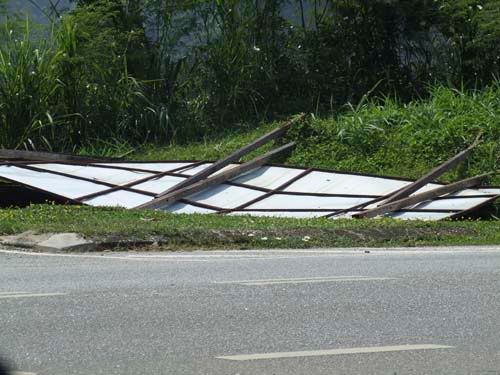 ...fallen signboards. Yep, the wind was damn strong.
Somebody has actually cleaned up the road; it was partially blocked by branches the previous evening.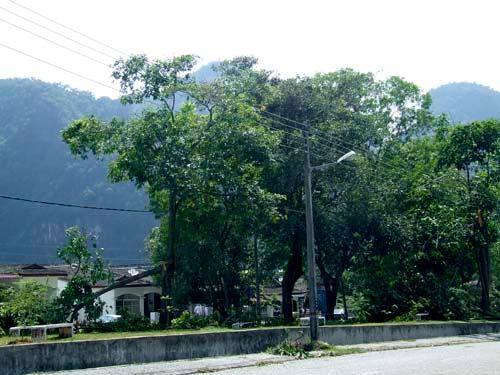 More fallen trees!
The neighbourhood's multi-purpose hall. Not so multi-purpose anymore now that it's roof has been blown off.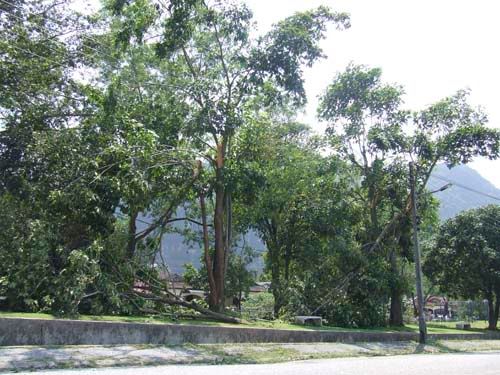 Yep, fallen trees again, this is a new record, by far!!! I guess we were lucky the trees didn't fall on anybody, their homes, cars, dogs, cats, or chickens. The DBI cleaners won't be too happy at this sight though. Speaking of DBI cleaners, today is Wednesday, it's been like 4 days since, and still none of them have showed up to clean the mess, even the garbage hasn't been collected, wonder what are those guys up to.
Anyway, it's been raining every day since, and I like the cool weather. Also, ironically, while the row of houses where I live was the only row in the Saturday blackout, I came home today only to realize that the rows of houses to the front, back, left, and right have been cut-off from the power supply, leaving us the only row with electricity. The world's kinda fair sometimes, unnecessarily fair :p
It's too dark and it's raining so I can't see clearly, but there's a truck opposite my home now as I'm typing this entry, and the men are cutting down and clearing trees now, I think they're here to reattach more cables. They're better equipped this time round though :D