I went to the Full Throttle Auto Show today with Yen and Sis! There weren't too many interesting cars there, but here's a few noteworthy ones!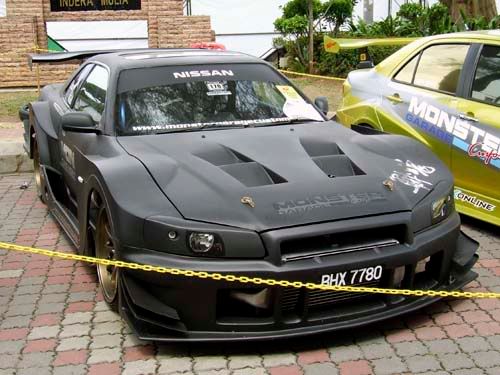 An R34 decked out in Super GT bodykit, nice no? Too bad the wheel fitment's a bit lame, needs more offset!



Black R34, clean, almost perfect!



Super GT style JZA80 Supra with a Lexus SC430 head conversion, pretty cool eh? The car's very extensive as far as mod goes, Sis likes it a lot. Me and Yen see it a lot though; the owner lives opposite Yen's home!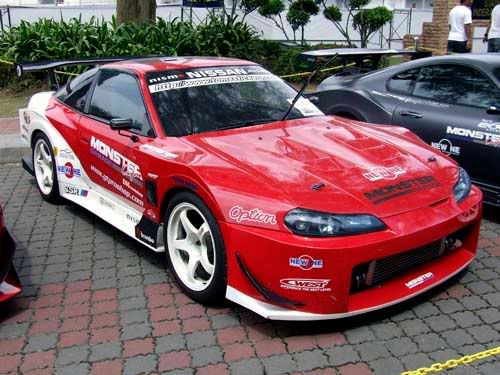 At first glance this seems to be just another S15 Silvia with a Super GT kit. I didn't notice it at first, but upon closer inspection of photo back at home, it seems to be a fascia swap on what's a S13 180SX! Kewl! I've seen the Japanese do it; S14 or S15 heads on RPS13 180/240SXs to create Sileightys or Silfortys, or RPS13 heads on S13, S14, S15 Silvias to achieve the Onevia, but this is the first time I've actually seen a real car done this way! Hm, I wonder if anybody has mashed things up with the S12 Silvia or Gazelle? That should be pretty interesting! Hehe, anyway, the
Mitsuoka Le-Seyde
is the most extreme as far as the S13-S15 chassis go.



This car caught my eye good; it looks almost perfectly like a Super GT NSX, but I figured it was too good to be true, so I guessed it was really an FTO, since there was another hideous example in grey just a few feet away. Wrong! On closer inspection, this car turned out to be a SW20 MR2, so the hatch scoop really does work since it's a mid-engined car like the real deal too, how awesome! Hah, and I thought SW20s can only masquerade as Ferrari F355s! Very well done, WIN!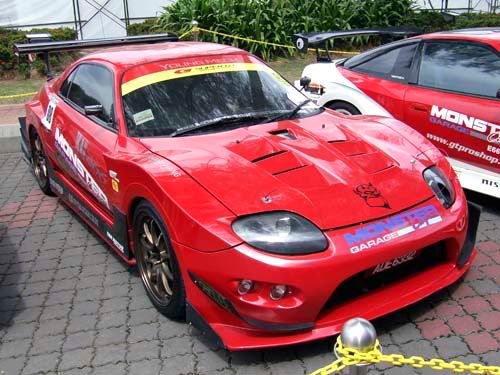 Another Super GT style FTO, sans NSX fascia conversion though. This car should ring a bell with TK and Han ;)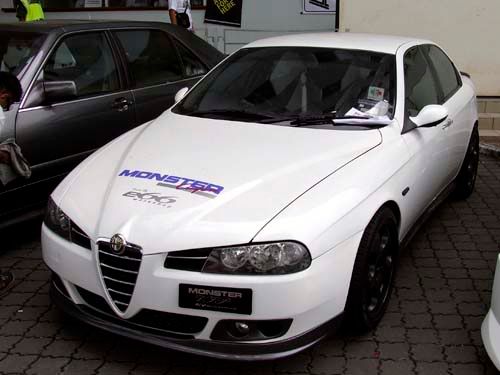 Very beautiful looking Alfa Romeo 156! I first saw this car back when it was still a dark green colour and just had the newer headlamps and bumper installed, it's now completed, and gorgoeus is an understatement!!! Whee, I could have been driving a car looking similar to this; Dad offered to get me a Citroen C5 or Alfa Romeo 156, with the condition that I give up on my Xantia. I was so tempted, especially after seeing this very 156 completed with body mods and new paint just a few weeks back. I even had in my mind a vision of how MY very own 156 would be like; Pearlscent white, 2.0 Selespeed, GTA bodykit, rims and headlamps with BTCC style wide fenders, small ducktail style bootlid spoiler, and maybe some OZ rims when I can afford it.... but it's too late now, I didn't take the offer, and my Xantia's getting it's engine rebuilt now. Gah!!! First MR2, then 406, and now C5 or 156, the good things I give up for that piece of French junk, I should have never laid my eyes on it!!! Hrmphh, anyway, back to this 156, it's such an amazing mix of elegance and aggression, even the newer ZTH M3 nearby looked bland in comparison (I loved it's brakes though, yummy), and except for the rims and bumper lips, this 156's exterior is pretty much stock, it just got a basic facelift!!! Giorgetto Giugiaro did a real good job redesigning the front. C-class? Hahahahahahaha, dream on lar, no chance at all, not even with Kleeman or Wald's help can it look half as alluring.



Hahah, I think I'm slapping myself a bit here for actually posting a 5-Series since I'd always said it looked as big and clumsy as a barge, but it looks so mean with the wider fenders! I suspect the number plate's been stolen off a certain German rear-engined monster though :p The owner should have stuck with the norm and went with 525, 5351 yada yada yada :p Very nice looking car, the ass was even sweeter, but I forgot to snap a pic of it :(



Me and Yen tried the F1 motion simulator too. One word: boring! We just sat in there and watched the action thru the virtual reality eyepiece! They were no pedals in the "car", and the steering doesn't do anything, in other words, what you do is just sit in there, hold the steering, and pretend you're driving while the whole race's been pre-programmed. I was really disappointed, and was already waiting for the whole thing to end before it even started. I felt it was so dumb, I didn't even pretend to drive by turning the steering like earlier patrons. On hindsight, it was no wonder nobody crashed in the game, nobody, it just wasn't a game at all!!! FAIL! Oh well, at least the girl was pretty pleasant to talk with, but I really wouldn't have waited for my turn if I knew earlier that it was just 3d graphics with plenty of ass shock....

Haha, well, anyway, I didn't really go to the show to look at cars. While I like cars like the R34 GT-R and RX-8 a lot, strangely, I just never had the urge to go check em up close, and mundane stuff like riced-out Wiras and Citys just do not blip in my radar. I just wanted to see TK, Boy & Felix drifting, in real life, I've seen enough videos, lol, and also, it was absolutely great to able to finally meet
Felix
and
Chloe
.

Sorry Chloe, if you noticed me hesitating while saying your name, I didn't forget your name, I just wasn't sure if I should pronounce it klo-ee or ke-low, I guess it's klo-ee since that's how they pronounce it in TVB's Revolving Doors of Vengeance :p I suck at pronouncing english names other than simple syllable ones like Jack, Alex, Jason, please forgive me, and thanks for tapping my shoulder and saying hi!! When I said hi to Felix, he commented on how often my name's popped up but he hasn't seen my face until just now, lol, I guess it's goes both ways ;) It was really nice meeting him, and his drifting's beautiful, I love how he slid thru the last corner of every round, so awesome! Yen got a drifting taxi ride courtesy of TK and she enjoyed it a lot, too bad there wasn't enough time to let Sis try it too, maybe next time.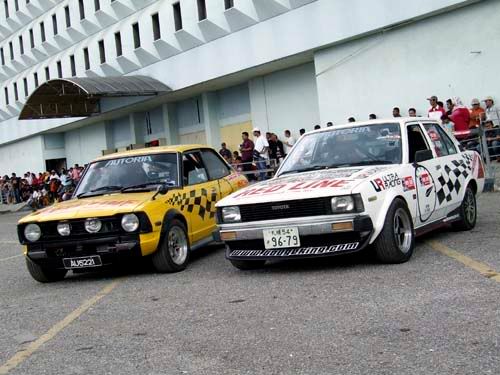 Felix's KE20 and TK's KE70, too bad Boy wasn't around, would've been nice to have his TE72 in the picture too!
Here's a "lightly" touched photo:


Try to spot some differences :p Click here for the full-sized one! I still haven't figured out how to activate link leading to full-size pic, just by clicking on the small picture after one year, I suck at this :(



Slightly raped ass on TK's FrankenKE, but both cars look very good and should make their sponsors proud :)



Fender mirrors, check! Fender flares, check! Longchamp XR-4s, check!! What's not to love? The only thing better than this is if it was a TE27 instead, but this is the best-looking KE20 I've ever encountered!



Not really a fan of that two lamps in the grille; I thought they looked horrible when I first saw it, but I've softened towards them, especially since the repaint, I think they look ok now, maybe I'll even grow to like them later :p Fender mirrors and bolt-on fender flares; best Japanese automobile fashion from the 70s, having em on your car = bonus coolness points! I must have em on my S30Z when I do get one!



Once again, needs *cough* more *cough* flare! I'm more used to seeing cars with wider rear track, not wider front track! LOL, anyway, awesome drifting today TK, 2nd run was absolutely perfect, awe-inspiring hoonage! And I want a ride too next time :D

Btw, those interested in checking out a bit of the action can do so here!