Fresh out of photoshop!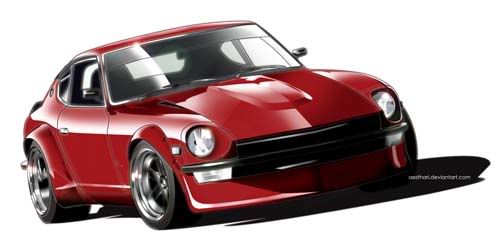 FINALLY REACHED THE LEVEL OF MY PHOTOSHOP CAR PAINTING IDOL'S SKILLZZZ! I'VE ACHIEVED GREATNESS, MUAHAHAHAHHAAHAH!!!!!!
*takes a deep breath*
Well, no greatness yet, but I'm darn stoked! Completed this painting in 16 hours and it turned out to be much better than I'd expected, yay again!!!!! ZOMG, I'm darn happy and I can finally sleep well tonight!!
Btw, full-size pic can be viewed at http://aesthari.deviantart.com/art/S30Z-Fairlady-of-my-dreams-89026941