Woot! Just realised I hadn't updated my blog in ages; almost forgot I have one, so I'm gonna churn out a few posts in a row :p
A lot of the bunch were either busy or away from town during the past few weeks, so we didn't get to celebrate Theng and Bou's birthdays (29th & 30th May respectively) on time. We just waited till Darren's birthday on 4th June and had a triple-celebration at Brown's!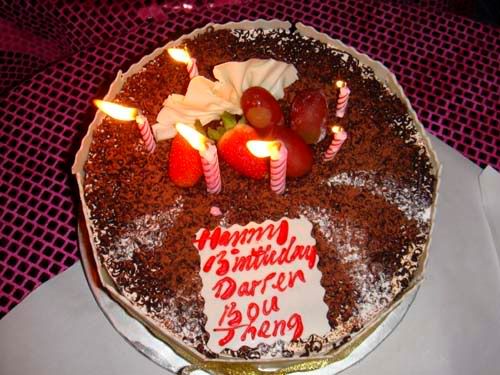 Cake!
The birthday boys & girl with their cake!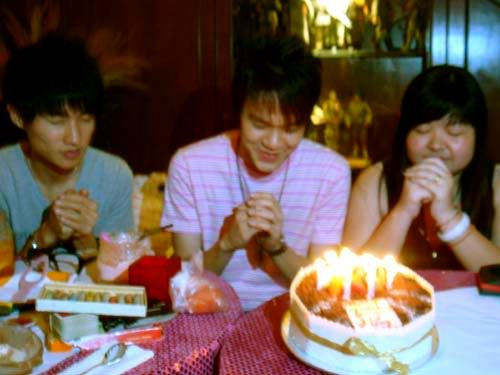 Wish wish wish...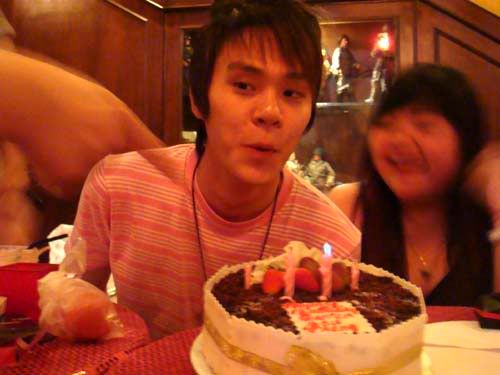 ... blow blow blow...
...cut cut cut...
...open open open...
...then TA-DAHHHHHHHHH!!
The trio got lots of presents that day, dolls, mugs, cosmetics & pendants (for Theng, of course), and even T-shirts & wrist strap with battery-powered flashing display!!
Bou's Giraffe and Darren's er, er, I donno what animal is it supposed to be. Ivan kept saying it's a cat but kittehs freakin DO NOT have muffs!!! So er, I'll leave it at that, I suck at identifying animals anyway, if you remember the
keychain
at all :p
It was a great night and we took many many pics! I totally whored out the timer function on Wennice's new camera! I'll just post a few pics though :D