Went on a trip to Haadyai with my family on the 26th of April. Our initial intention to go in the Transit was dashed because the fuel pump still needs tuning, so we went in the Multipla while Aunt Mee Yin, Kah Wai & Kah Hoe went in their Saga. The trip wasn't too eventful, so I'm just posting some random pics :p
Beautiful skies all day!
Interesting looking bus, note the rear fenders :)
Woot, what a coincidence!! These two bikes were parked at the entrance of VC Apartments where we stayed!
In Haadyai, you can shop till you drop, then get a nice massage and relax, then go shopping again, but I'm not interested in those. My only interest there is..
..FOOD!!
Undried bihun with soup, beef and beef balls, definitely tasty, especially when topped with some dried chilli powder!
Bihun again! It's got pork and beef balls, charsiu and wantan. Pretty common as you can see, but the sauce + undried bihun makes it delicious!! I like!
This is a Thai specialty: One scoop of ice cream under a scoop of sweet glutinous rice, buried under bread crumbs, then covered under another scoop of ice cream, and finally topped with ground nuts and other sweet stuffs! This is a must have, good stuff!
On this trip, I noticed something new too:
Hello Kitty number plate holder...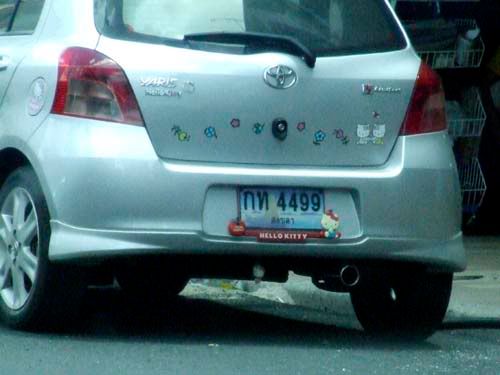 ...and again...
...and again!!
These plates are everywhere! Other than Hello Kitty, I've seen Doraemon versions too, but what really drops the bomb is an exhaust muffler tip shaped like a Hello Kitty head! It's not just a simple Hello Kitty head shaped steel pipe; it's got the eyes, nose, and whiskers too, so kewl! I saw the muffler tip installed on a white Yaris driven by a girl, and yes, the Yaris has got the Hello Kitty number plate holders up front and back too! Too bad I didn't notice the muffler tip until we overtook her, and she never did pass us again. I'd wanted to get Yen a set of those plate holders, but I didn't see any car accessories shop on this trip, maybe next time. Yen will probably kill for one of those muffler tips :p
Saw this car while leaving Haadyai. Dad said it looks like a Camaro, and resemble a Camaro it does all right, but it isn't one. Definitely not a Plymouth Barracuda either, wonder what make and model it is.
Oh, btw, Dad told me he saw a white Murcielago or Gallardo at Jalan Kampar after work yesterday, but I won! Guess what I saw!!! I saw, I saw, I saw a white Nissan GT-R in Tambun town while on the way home yesterday evening! Not just any GT-R, it's the latest R35!!! I still don't like the styling much, but it was still awesome-looking!