Tuesday, 22042008 was Mom's birthday! I was very occupied for the past month, and had forgotten all my plans for her cake and card, and to top it all we got home late from the trip on Monday, so I worked hard into 0300 on Tuesday morning, trying to come up with a card design. I failed. I went to sleep. Woke up the next morning and started sneakily working on it at the office, but not before I secretly ordered a cake. I've wanted to get a yam cake earlier; Mom loves yam, but that's only available on order 2 days beforehand, so that's not possible anymore, and I opted for Mocha Peanut; never tried it before, but it sounded yummy.
While on the way to Unique Seafood for dinner later at night, I got a call from Bro, saying he'll reach Ipoh in 30 minutes. WTF? Popping home all of a sudden, to surprise Mom of course, but should have informed the rest of us earlier as we've made an appointment. Gonna knock his head good one of these days. I went with Yen to fetch him after dropping the others down at Sunway. Aunt Mee Yin, Kah Hoe & Kah Wai have already arrived by the time we got back to Unique.
The Mocha Peanut cake was delicious and aromatic, thanks to the generous amount of peanuts used in it, everyone loved the flavour!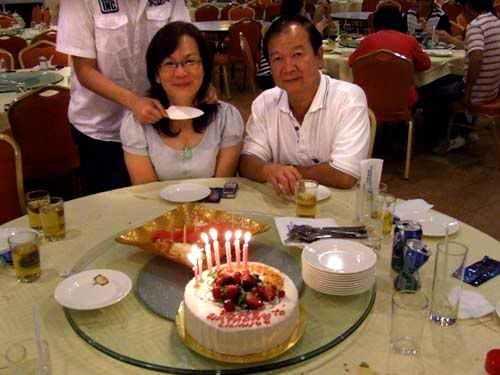 Bloopered pic :p
Family pic, someone is still having fun with the cake knife.
...and more family pics!
Mom & Dad!