Ok la, so Melaka isn't really that exciting to me, anymore, probably because I've been to the attractions one too many times. Uncle Leong and family has already arrived at Melaka about 1 hour+ before us, he came earlier as he had to send his elder brother off at KLIA on Sunday morning. When we arrived at the resort, we unpacked our stuff and went banging on the door of Uncle Leong's suite next door to wake him up from his nap!
Took a bath, and out we went in Dad's Transit into town for some fun! First off we stopped at Tan Kim Hock to stock up on food and delicacies. We hadn't actually had lunch, just a bit of the rice Uncle Phang cooked for us, so we searched for food, and arrived at the cendol store opposite the Cheng Ho museum thingy, but we couldn't see no cendol store in sight!!! The store's moved to another shop just about 10 units down the same street, easy enough to find, thanks to the lady at the museum :)
Tasty Nyonya dumplings! It's fillings are slightly sweet and spicy meat, the blue color comes from the juice of a flower, a blue flower, obviously!
Cendol! Finely ground ice with no hard chunks, lotsa fragrant beans, and good Gula Melaka, yummy!!
Uncle Leong, Aunty Leong, Sze Yuen and Aunt Mee Yin wanted to check the Cheng Ho museum out after the cendol break, but we've been in there just recently, so off we went for a walk in the streets and buy offerings for Aunt May Foong while at it.
A pretty funky looking Suzuki Jiminy I saw on the street, must belong to the guys at the Orang Utan t-shirt store just on the other side of the road, same drawing styles :)
We spent about an hour walking along the streets, browsing in stores for clothes and curio, and noticed more and more peddlars setting up stalls on the road. Turns out that the street is now site for pasar malam every Friday, Saturday, Sunday evening, Jonker Walk, nice.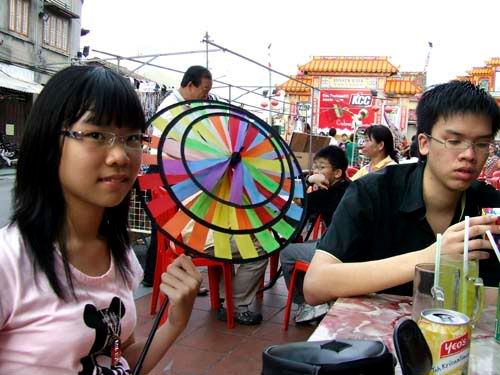 Sis with a colourful windmill thingy I bought for her, when wind blows, the largest and smallest fans will rotate clockwise while the medium one goes anti, resulting in a beautiful spectrum! I bought one for Yen too! Bro is seen messing hopelessly with the Rubik's Cube he bought at one of the stalls. I haven't seen the cube anymore since that evening, he must have given up and totally forgot about it.
We stopped for drinks and a short break at a coffee shop, but in the end, it turned out to be a long, long break. You know it's so when the sky turned from this: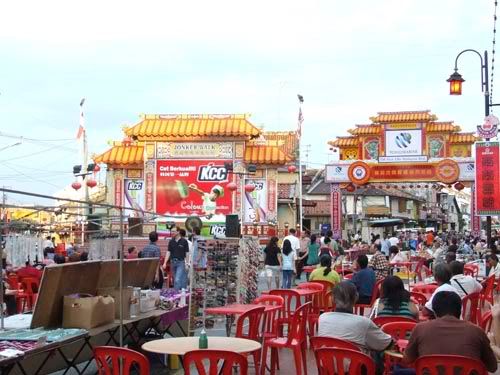 ...to this:
I love the red lamps mounted outside ALL the buildings in Jonker Walk; they contrast very well with the skies and give the place great ambience.
As it got late, all of the stalls are fully-open by then, so off I went walking around with Bro, Sis & Sze Yuen again. I bought 4 sets of glow-in-the-dark skeletons!
Sis got the 16pcs butterfly, me the 39pcs dinosaur, and Bro the 94 pcs crocodile, Sze Yuen took a 34pcs dinosaur, I think.
It was already 2045 when we left Jonker Walk, and we headed to takeaway delicious Hou Jin as supper, Dad and Sis bought some movies while we were waiting too!
Monday morning, we packed up, checked out and headed out to the historical buildings as Aunt Mee Yin hasn't been there in a long time. Parking spots in Melaka are painfully short, but we managed to find good parking spots near the ship museum, so we started walking from there.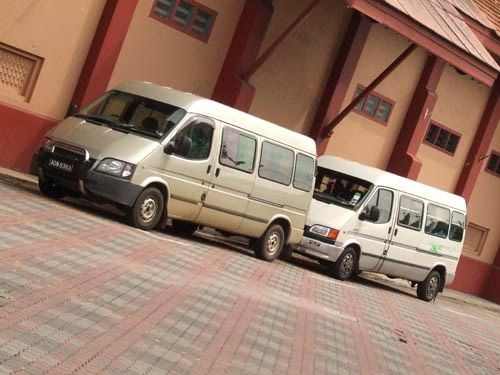 Dad and Uncle Leong's Transits. We travel in spacious comfort, only the Sprinters can better the Transits, maybe ;)
Ship museum, awesome, but not as awesome anymore, probably because I've seen it too many times now..
A navy ship on display, not so interesting anymore too. What's interesting is the tower in the background, Menara Taming Sari.
I love ceilings like this, just beautiful...
Getting in the queue to go up..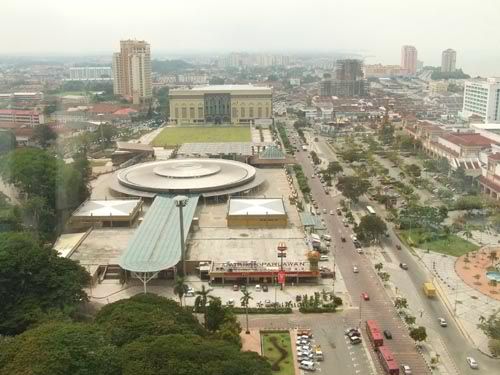 A view from the top
The historical buildings, I'm so used to looking UP at them, not DOWN on them :p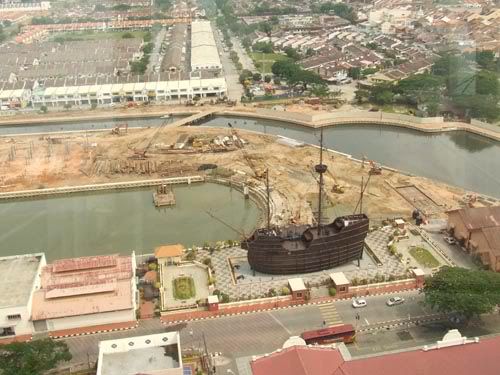 There's some sorta project going on beside the ship museum, apparently, it involves redirecting the river, creating a new bank yada yada yada. I need to read the papers more; I was totally clueless about Menara Taming Sari and this, wonder what else is going on in Malaysia that I'm not aware about. Must be lots.
Just as we were done taking pics in front of the tower, Uncle Leong's sis called and we joined her for chicken rice lunch in town. We headed to Rawang to visit Aunt May Foong's grave before dropping Bro back at Subang Jaya, after which we started our journey home. Uncle Leong who left Melaka with his sis and family a bit later than us was about half an hour ahead of us on the journey home too then :)