Been building models again on Saturday!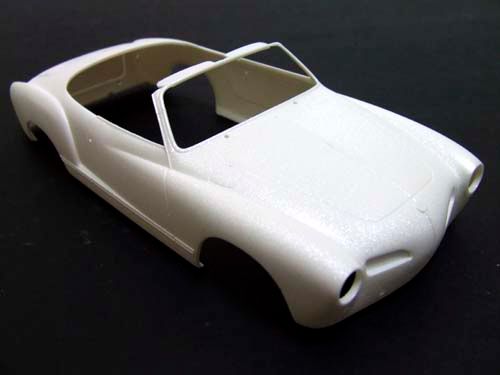 Karmann Ghia painted Pearl White! Looks nice rite? No, you can't see any difference? Blame my lame camera then :p
Alpine A110 painted with Sparkling Blue given by Ying..
..and how it looks like two layers of Candy Blue on later..
Dazzling, love the color, should have done this to my S30Z too!!
Interior:
Body mounted on subframe:
The interesting part under the car:
I haven't forgotten about the FC3S, but the horrible mold quality (lotsa mould lines), super simplistic chassis (no disc brakes and wheel wells, minimum drivetrain details), and some body mods made it impossible for me to start painting it until I sand out a lot of imperfections and come up with my plans for the chassis.
Speaking of mods, last FC3S I built was pretty much a demure stock-standard one, so this one's gonna look a bit more dramatic:
Cut another arch out from the right side of the bumper for right exhaust pipe. This model I got is of an Infini IV model with only one left exhaust pipe fitted as standard, but I'm a sucker for dual pipes on FC3S RX-7s. Mods might also include larger muffler or at least muffler tips to suggest it has more oomph :)
Cut out headlamps so that they open up, and still figuring how to make it open lower, in a nod to the "sleepy eyes" look favored among Japanese drifters. Why do they do it anyway, maybe it lowers the drag coefficient of their car? Might be a valid reason, since wind-tunnel testing shows that something as small as the side mirrors usually generate the most aero drag on a stock standard car, so I'm guessing lower headlamps = smaller surface area = less drag. Then why didn't they just opt for recessed headlamps? No idea, but sleepy eyes are sure cool :p
Not really a mod, but I cut away the one long horizontal and 4 vertical bars in the central grille, no particular reason for doing this, I just think it looks better that way :D