My Samsung E900's finally run out of phone memory, so I transferred the pics to my laptop. Here are a few random pics from the stash:
4th of April, second day I got my phone, at Ice Ice Baby. This was back when Nicky's still got his spiky hair and Wendy's trying her chio look.
Yen and sis with one of Yan's newborn twins.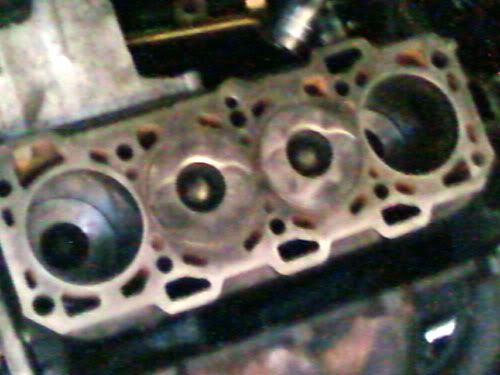 Multipla's topset removed during a routine check, first time I saw pistons that look as if they have a missile warhead embedded in it.
My very cincai presentation of my final assignment for graphic & advertising design, this was towards the end of April.
Anger management. There was this one day when I was extra agitated and pissed as usual, and went home feeling very destructive. I wanted to destroy things badly but I'm sure I'll regret the aftermath if I go around banging doors and throwing stuff, so I hid in my room and tore whatever tough and thick paper I could find to very very very very very teeny pieces instead. I somehow cooled down considerably in the process, and realised how pointless and irreversible our actions are when we are angry sometimes. Although not good, my temper improved leaps since that day, and this pic is a reminder to me not to do something in anger and regret it later, because some damage are just irreparable. I hadn't let my temper get the better of me anymore since then, apart from the one time I smashed the Wira.
Yen during our visit to a furniture factory in Chemor.
Prep work for Merdeka at Hong Kong bank. Respect for the flag? Hah, then what's the ladder doing ON it?
Trisha having difficulty chewing on vege with her new braces.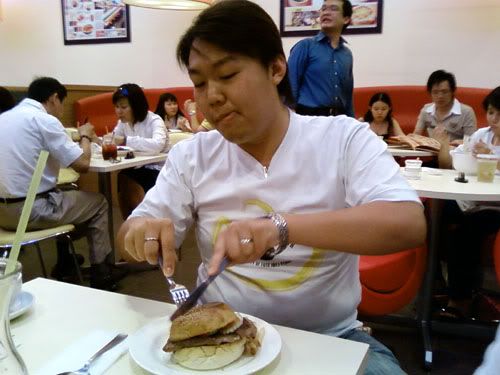 Mok sawing thru his burger as if it's steak.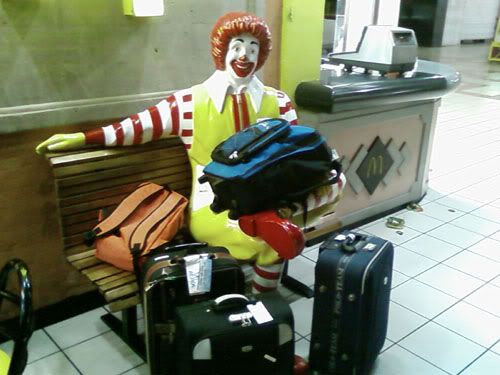 Ronald was kind enough to look after our baggage while we were eating at the airport in Bali, waiting for the flight to Jakarta.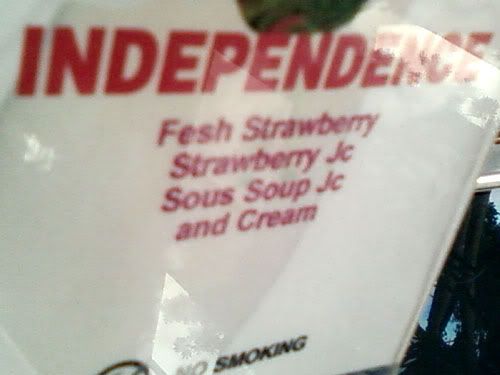 Mocktail and Fest Strawberry anyone? Well, it isn't THAT funny, no idea why I thought it was back then though :p Taken at Mercure in Ancol, Jakarta.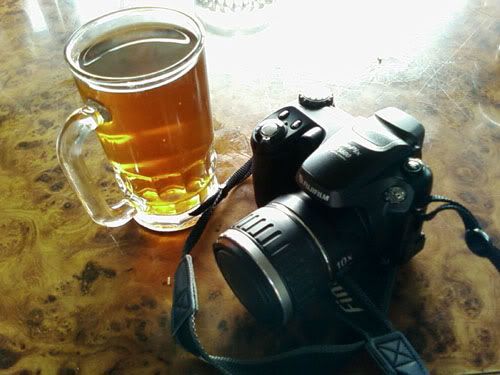 Lame attempt at something artsy while waiting for satay at Puncak. Camera's my lame ass S5600, which I hated at first, then grew to love, then started hating again as I begin to realise more and more of its limitations. I cincai ordered this one without testing as its predecessor S5500 was pretty good. I SHALL test the camera's capabilities next time when I'm buying another.
Eye on Malaysia during a trip there in October. Had thought I can rely on the girls to bring cameras for camwhoring and stuff. Two didn't bring theirs. One brought the camera but didn't recharge the batteries. Another brought camera, recharged but didn't insert memory card. Guys? We are guys ma, guys don't bring cameras out for camwhore one, and our cameras are big-ass anyway, so there. Fail.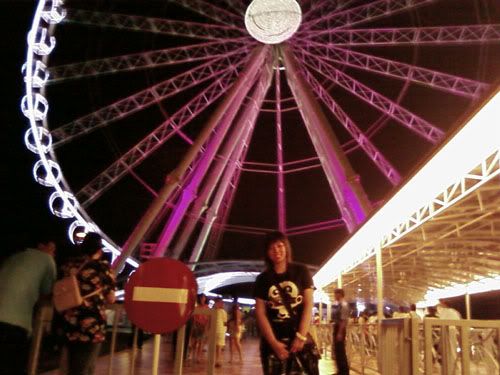 Yen, at the bottom of Eye on Malaysia, it was a fun night :)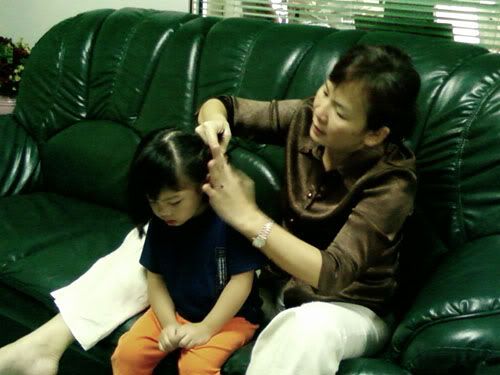 Mom tying up hair for bro Keat's youngest daughter at the office.
A dilapidated Mazda R360, Mazda's very first car. I brought Yen to see this as we were in the vicinity. Dad used to own one too. Its very, very sad to see such a unique piece of motoring history in such a state. There's a more common Fiat 600 in the background, parked beside a rarer Austin and 80's Subaru coupe.
A Maserati 3200GT, this is the true sexy back. Yew and I saw this car as we exited Sunway and was on our way back to Subang Jaya. This was on 23rd December, while I was there for Lean Lee and Chun Pin's wedding.
Iswara turned turtle in front of St Michaels, just beside Ipoh Padang. This on a short, low speed, uphill straight. Heck, I bet the driver can overturn a tank, given the chance.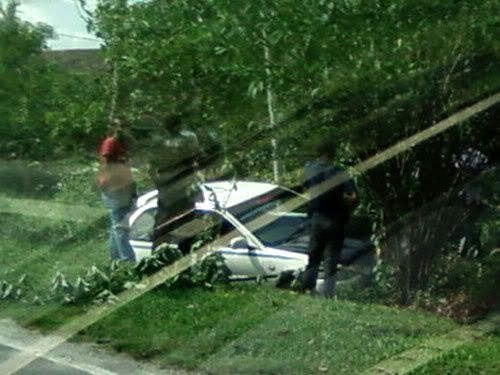 Taken the day after the Iswara, somebody probably dived into this subtle right hander near Simee a bit too fast, panicked, then brake-understeered over into the bushes. Police was there too, bet the driver was telling them he's just helping his friend trim the plants. The DBI people will be grateful.
1650, 21st January 2008. Malaysian Book of Useless Records entry #1. Foong Leong Soon, hailing from Ipoh, Perak, discovered (not invented ar) the cheapest way to waste one hour. Ever. His work is a fabulously fantastic (superfantastic, if you compare it to a crashed beer can) piece of art, created from nothing more than a recycled piece of A4 and smelly glue.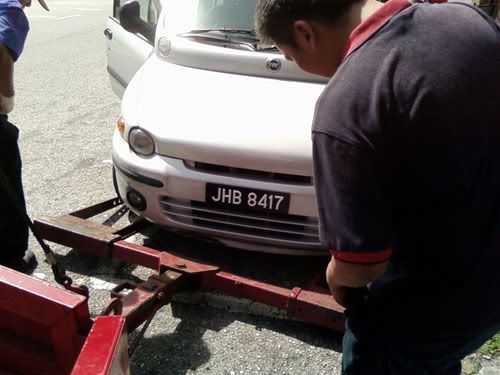 This the pic that took the last bit of memory space in my phone. Something went wrong with the Multipla's transmission this morning, and it had to be towed to the workshop. The tow truck driver and Siong had a hard time getting the Multipla on tow without damaging the front bumper lip, which is aerodynamically, functionally and aesthetically useless anyway. Apparently, whoever designed the Multipla decided its absolutely necessary to pen such weird protrusions on an already weird mass-produced car.