Ying was back in Ipoh so we went yumcha at Friends Cafe on Saturday night. I arrived quite late as I was waiting for Yen, who just got back from her grandma's, so we walked in Friends Cafe and found Shen, Ying, Wendy, Ivan & Poh already sitting in there.

Ying got these for us:

Leftmost is Shen's (dizzy face in pink PJs), then Wendy's (XO!), mine (Doraemon), Poh's (Chinese cloud pattern), and finally Ivan's (multi-face)!
Look, the bears have even got the Ku-Ru version of our faces drawn at the back of their heads!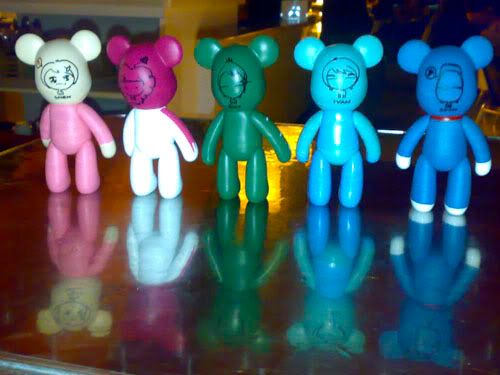 Like this pic, thought it was a starfish the first time I saw it in the handphone :p
We munched on onion rings and fries while chatting, and Ivan took lotsa pics of the bears with Poh's handphone, he seems to really like the bears an extra lot :)
After Friends, we went off for walks and chat at Ipoh Padang, planning our next trip to somewhere, no clear idea where yet though. I left at about 1am as I had to send Yen home, and the bunch only left at about 2am, insomniacs :p