The Multipla has been leaking in water really bad whenever it rains lately, Dad decided he's had enough of it, so on Friday evening, he removed the upper interior to find out the source of the leak once and for all :p I was helping out so I took some pics :)
The underside of the ceiling, you can see the water marks and smudges there.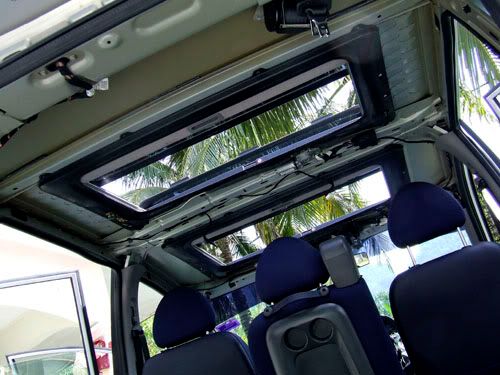 The bare ceiling.
I took the seats out for some drying up on Saturday morning as it was a nice sunny one, and the office is not open that day.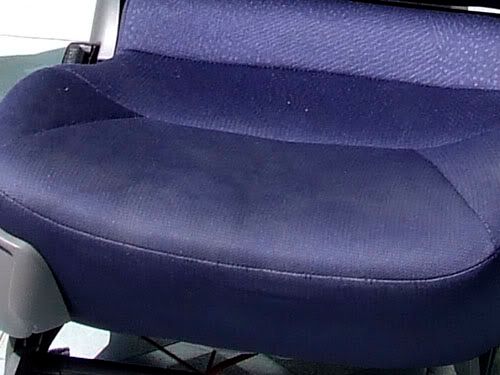 Unsightly water marks on the seats.
Upon removing the ceiling trim, we noticed that water is indeed seeping in thru the side of the sunroofs and not the doors, so that significantly narrowed down the location of the problem.
Right side of front sunroof, looks ok :)
Left side of front sunroof, not ok :( Notice the gap between the glass and the rubber seal?
It's the same on the rear sunroof too:
Right side of rear sunroof closes nicely..
..not on the left side though, so I guess that's our problem.
There wasn't much we could do about it since it's a weekend and all, but now that we know where the problem lies, we could hopefully rectify it by adding some softer and stickier seals :)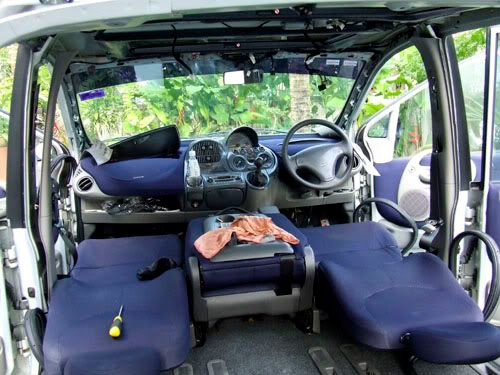 Messy interior, we put it back together again later :)
After putting the interior trim back again, I took the air filter out for some cleaning: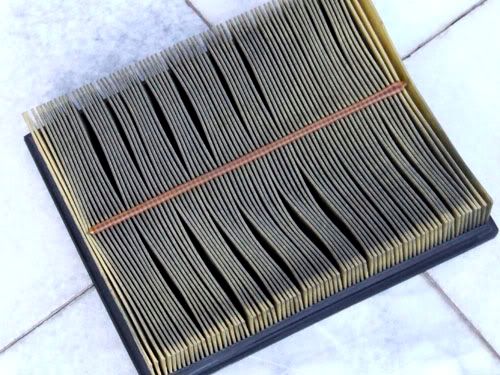 Looks pretty clean, don't think it needs replacement anytime soon. This is the first time I see a filter element with a strip of glue running through its bottom, probably to prevent damage from folding and flex.
Dad removed the O2 sensor to have a look at it too:
The O2 sensor, probably the culprit causing all the power loss in the Multipla.
We've sent the turbocharger for repairs in KL, didn't solve the problem. Sent the car to Leeborn, specialists in French junks, didn't work. Sent the car to Motor Italia, specialists in Fiats and Alfas, didn't work too :( The mechanics told us the O2 sensor might be damaged, resulting in poor airflow hence the low power, but they couldn't make sure, so we'll be sending the car to a Fiat service centre in KL when we have the time.