There is a dog show this week, instead of the usual dog training sessions I go to. I woke up late this morning, bathed, grabbed my camera, handphones, wallet, and rushed out without breakfast. Then I drove like the usual maniac I am and arrived at the training spot. Only to see that there isn't any cars there, let alone the crowd. DANG!!!! I called Yen up, Wennice answered, and reminded me that the show was at Yuk Choy primary school, I actually forgot that :p
So, after another maniacal 5 minute drive, and another 5 minute hunt for a parking spot, I finally stepped into Yuk Choy. While searching for the gang, I came upon these two Huskies and couldn't resist a shot: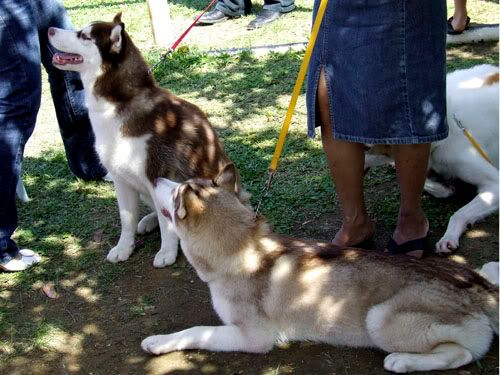 I was chatting with Ivan, enjoying the show, when something furry brushed against me leg, and when I looked down, lo and behold...
WENNICE!!!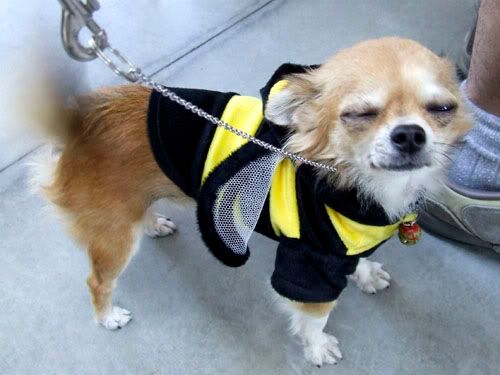 Yo, squinty eyes are sexy ya?
Walao eh~! As if he isn't cute enough as he is, Wennice's "parents" decided that he should come in a bumblebee costume :) I suggested wire strips so that the wings can stand a bit next time.
Yen promptly snatched him away for pics :p
The normally obedient Austen was very hyped up too; his owner was having a field day keeping him in check :)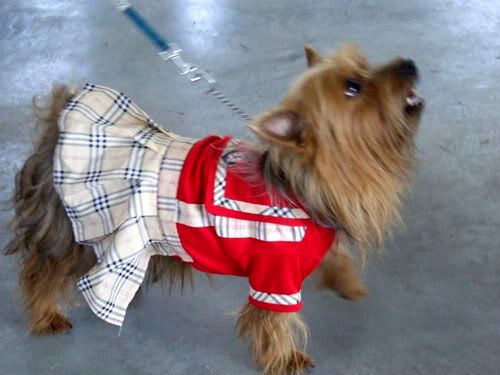 Pretty doggy!
I'm seeing lotsa wool here :)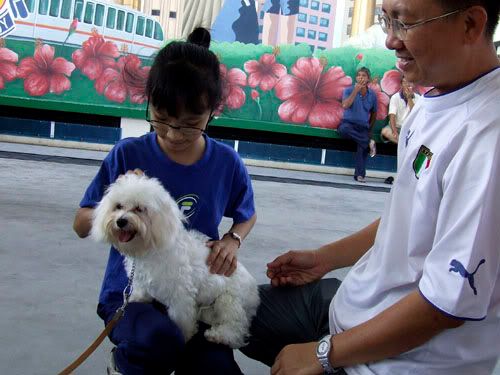 A lot of visitors came to play with Mui Mui as she's the only Maltese around, and there were impressed with her earlier performance too, it's a pity I missed it though as I was still parking my car :p
"Come, come, pet me!!"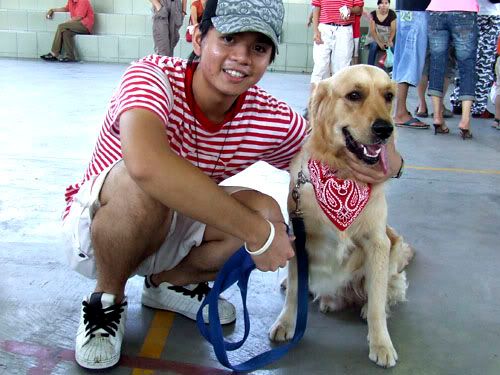 Ivan & Gordon! A few visitors who played with Gordon commented that he'd look better with a cowboy hat :)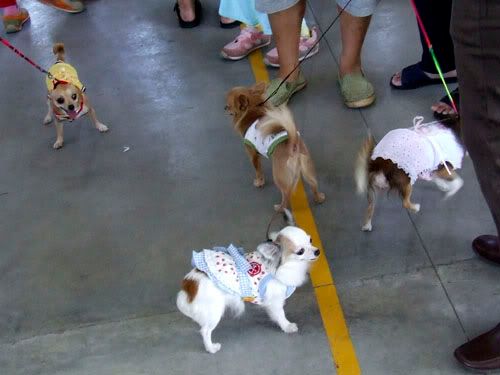 Bunch of Chihuahuas.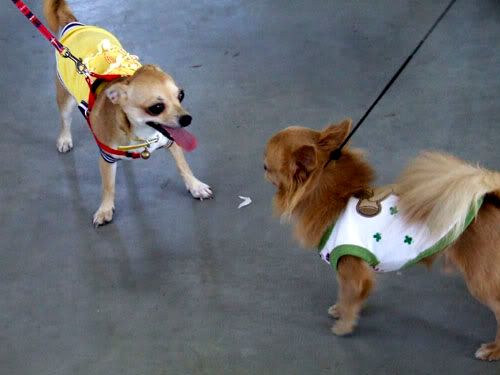 Confrontation!! The Chihuahua in yellow is pretty aggresive; I saw it trying to scare off a few other pups. Pretty spunky for it's size eh?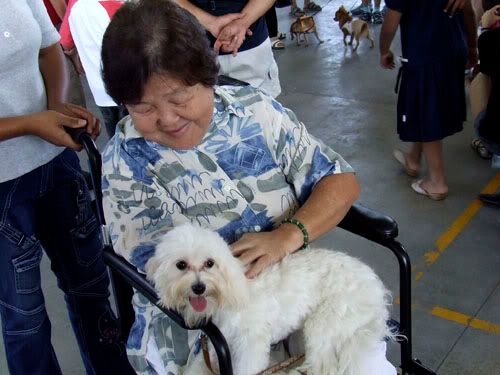 Mui Mui is adorable, everybody likes her :)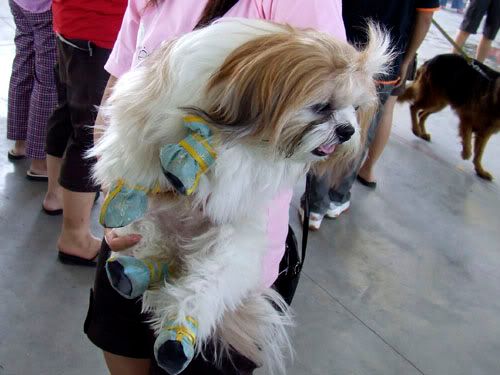 Cute pup with shoes, his name is Patrick!
Yen with Mui Mui!
Cute, teeny little Chihuahuas!!
*Sniff sniff sniff*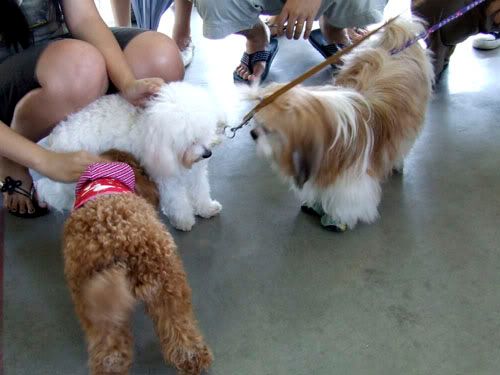 Patrick joining in the fun...
Cute eh? Looks just like a teddy bear!
Yen took this. "These shoes are made for walking" :)
More *sniff sniff* moments!
Ivan, Gordon, Mui Mui, Wennice and Yen :) And nope, Wennice wasn't spared of the jokes that she shares her name with a Chihuahua today either :p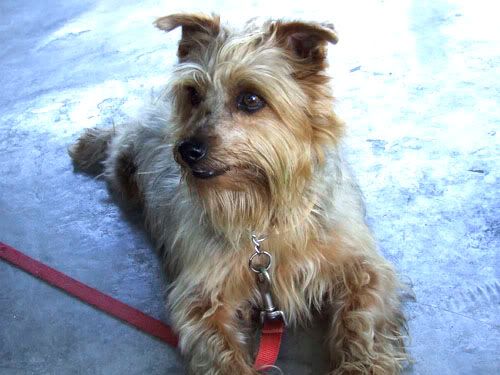 Rosa! She's a very beautiful Silky belonging to one of the trainers, and is really obedient! There was once her trainer made her sit and wait in front of me and Wennice (the human one), we tried biscuits and a variety of ways to make her move, but she wouldn't budge!!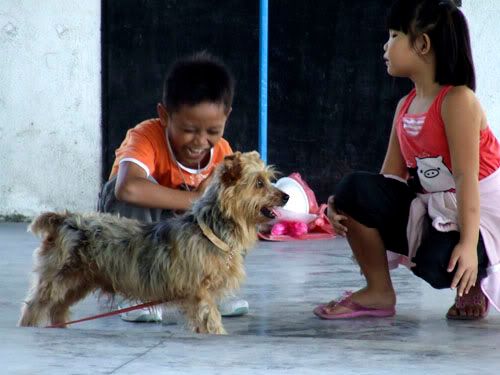 Kids playing with Rosa, didn't notice when she was put on a leash again. Earlier on she was allowed to run around the basketball court all on her own!
A reporter from The Star interviewing Yen :)
I'm not sure what breed this dog is, but I think it's some variation of the Sheperd breed, I did hear from an instructor that he's from a Russian breed though. Looks awesomely majestic!
On our way out, we passed another cute pup in a Kimono, and it was unlucky enough to be caught by Yen for pics too!
Husky!!! So handsome!!
I couldn't find Mok, so we left without saying goodbye to him, I think he's running around snapping pics with his photographer friend again :)