I'd mistaken the date of Lean Lee and Chun Pin's wedding dinner and would have stayed on another day for the dinner, but I had to return to Ipoh because I promised to be back for the gathering :p

The trip back home was awfully slow and took 3 hours, so I'm glad I took the 1330 bus home or I would still be stuck in the middle of nowhere by evening. Bro took me back to the office, I hung around a while and headed straight home, took a bath, then left to do some last minute shopping at Jusco :p

I bought Yen a bag that she said was nice when we saw it while shopping a few days earlier. My bro liked those piggy keychain stuff so I got him a black and white one, for Sis I picked a cute Mickey toy. Yea, the gifts are all cheapo ones, but what the heck, I'm about broke during those few days, and it's the thought that counts, right? Right!

After buying the gifts, I went straight to fetch Yen and off to MP we went. Jason Cheng appeared with his girlfriend shortly after we got out of the car. Wennice and Theng came about 15 minutes later, I forgot when Mok appeared, but he was there early on too :) Not long after we sat down, we spotted Poh and Chew Yee walking around, they're there with some other friends.

Mok nearly had an argument with the manager or someone in similar position at MP because she insisted she has the right to cancel our reservation for the other table as the others arrived late, but she didn't get her way, which was good :p Ivan appeared late and had to sit , alone, at the next table while waiting for the others to arrive, how pitiful :p

Terry and Trisha arrived about half an hour late, as expected, with Reece, a friend of Trisha's, saving Ivan from loneliness at the next table :p Jenn Yi and Yar Leng appeared later too.
Clockwise from top left; Wennice, Me, Yen, Jason, Heng Yee & Leng Lui Theng :) I missed Leng Lui Theng a lot, it's been real long since we talked crap with each other :p
Terry, Jenn Yi & Theng
Yen was trying to get a pic of Yar Leng, who was busy talking and failed to pay attention, resulting in the following pics:
Digging Wennice's nose.....
Slapping Wennice's head.....
And finally...
Sayang~~ Wennice!! :p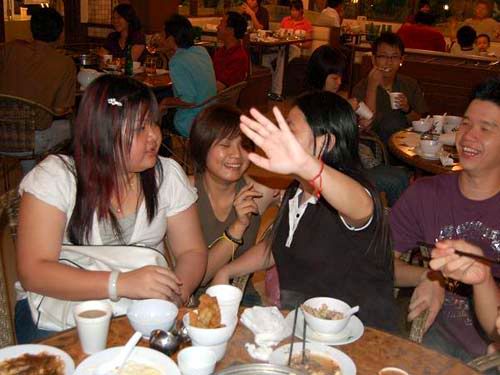 Don kacau!!!!!!
Ken Toong was there at MP too; he sent me an SMS but he left before I could find him, then I spotted Meng Khuen's girlfriend and not long after he came and patted my back :p Even Jeet was there; spotted him outside with some friends when I went out to answer a call, we seriously need more places to go for dinner in Ipoh :p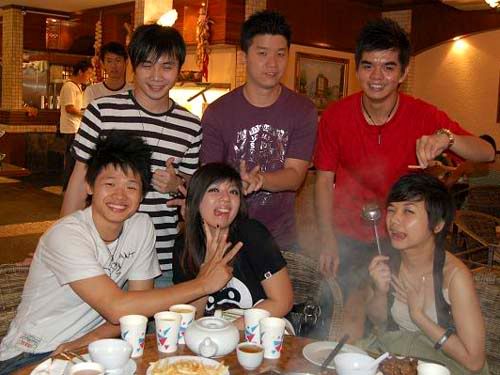 Jeet, Me, Ivan, Trisha, Yen & Reece, nice guy :)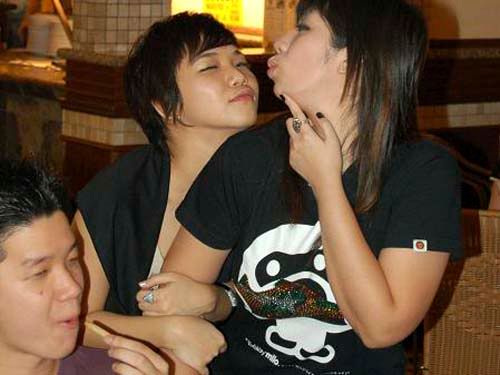 See what are those two doing behind my back :(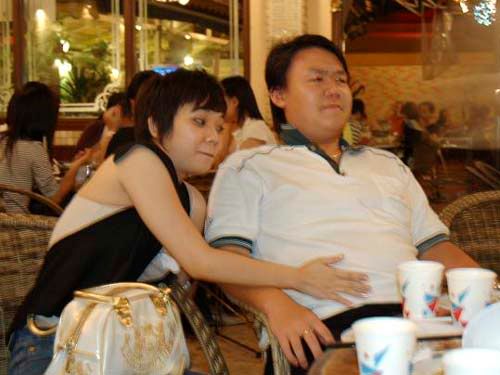 Trisha molesting Mok :p
Terry and Jenn Yi left after dinner as they wanted to go clubbing, so the rest of us walked from MP to Oldtown Kopitiam Greentown, which was surprisingly NOT packed, and had drinks until 0030 Christmas, when everyone left for home. Only a few of us could make it for the gathering that night, but it was fun nonetheless. And Wendy Wong, if you're reading this, you fong fei kei again!!!! I'm s0 gonna strangle you next time I see you!!!! :p
Happy New Year everybody!!