Nicky's birthday isn't to be until the 14th, that's this Wednesday, but he decided to throw it early on the 10th instead for the convenience of his guests :)

Me and Yen arrived at Nicky's home at about 1940, about 20 minutes late, because I forgot to bring his present and had to make a detour home after fetching Yen to get it :p



Cake cutting! Nicky's still wearing a wool cap to hide the scar on his head, other than that, he recovered pretty fast!

Nicky's mom made some delicious spaghetti with meatballs, and then there's salad, sausages wrapped in bacon, egg & tuna sandwiches, man, the food was good!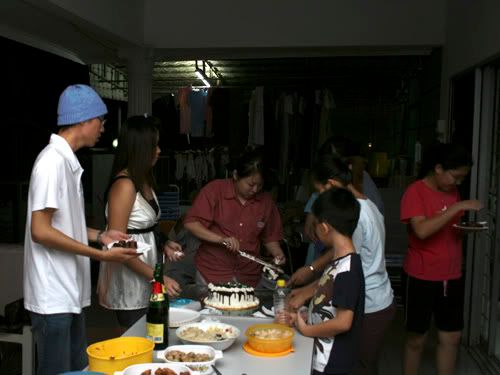 Distributing the cake..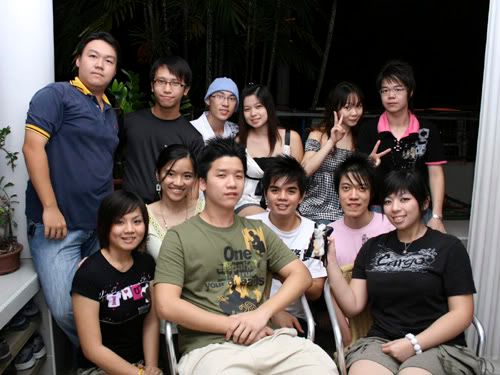 From left at back is Mok, Jason Cheng, Nicky, Ke Yue, San, & Allan.
Front, Wennice, Foh Yen, Me, Ivan, Zheng Wei & Yen! They made me sit in front, I tried very hard to hide my belly!!!!! Poh left early so he isn't in the pic, Sauw Leng was down with fever and Wendy's still busy with work, so they aren't in too.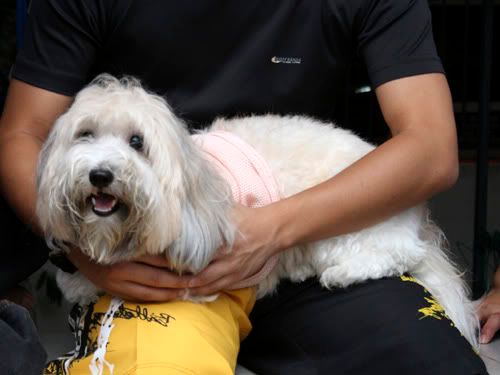 Nicky's pup Miko. She barks at me, Sauw Leng, & Mok only, nobody else. Guess she dislikes big-bellied people :p



San carrying Miko, like she's actually hugging a baby :p This is weird, I've never seen people carry dogs this way!