sI said earlier that there are wedding's lined up for nearly every other day of the week this month, and today's the wedding of my dear cousin Kah Mun!
Introducing...
My dashing cousin brother-in-law Ken! He's a nice, tall and shy guy! Sorry he had to make his first appearance here in pampers hehe, but it's either he do that or he'll not get to enter the house :p
Ken slipping the "I'm-married-so-you-have-no-chance!" symbol to other men, aka, The Ring, on Kah Mun, finally tying the knot after 3-4 years of dating :)
They make a perfect couple eh?
Ken & Kah Mun getting their wedding gifts from Uncle Yee & Aunt May Lai.
Kok Wai serving his sis and brother-in-law tea while Kei Kei, his girlfriend looks on.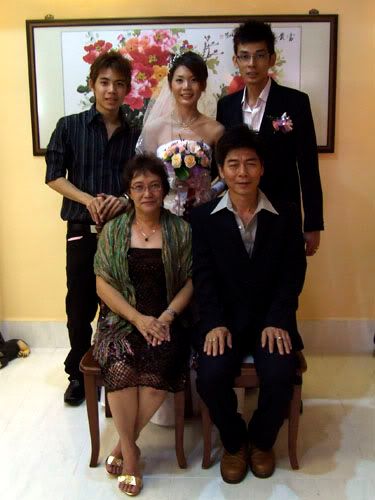 Family pic!!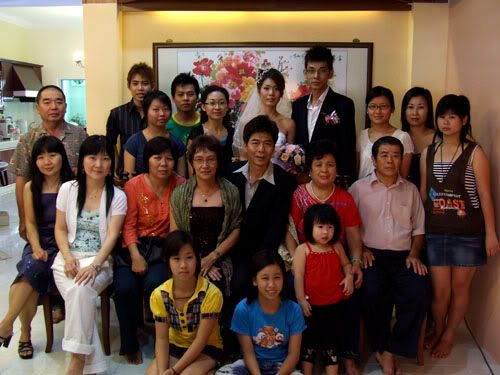 Even larger family pic!!! Haha, this is not everybody, quite far from it, actually :p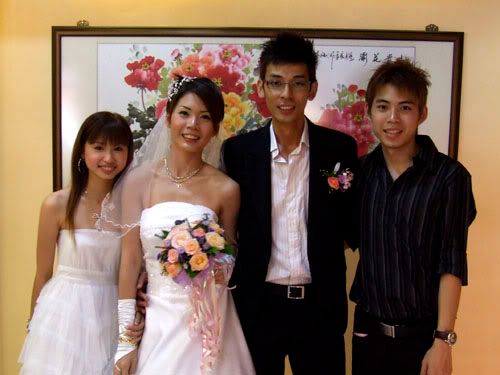 Sis & bro with their significant others. Can you say suh-weeet?
Leaving for the journey to hubby's home...
After the wedding party left for Ken's home, we cleared the place and had lunch.
Sis, Kystal, Daryl & Dawin.
Kok Wai slipping into something more comfortable (sandals!!) after the party's left, he'd completely changed back to singlet and shorts by the time I left!