On 17th November 2007, Neoh Kah Mun's finally wedded to Ken Yap, family history was made! Evening at Sun Lee How Fook was where it's at!
The reception, Uncle Yee printed the banner! Couldn't be an easier job for him, having his own print shop and all. As there is another wedding dinner being held downstairs, we had to ask and usher guests upstairs, lest they make it to the wrong reception :)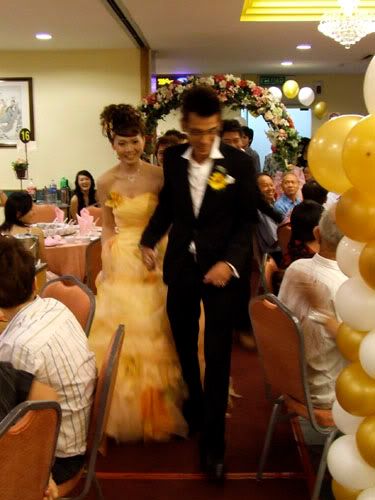 Kah Mun & Ken making their way to the main table. The reception was very smooth as most of the guests arrived on time and we could start the course at 2000, quite good indeed :)
In-laws, the extended family just got larger, how cool is that? More people to chat and drink with during dinners and gatherings :)
Food and service at SLHF is good, way better than what I got at Overseas, Friday night when attending another wedding dinner. The seating's a little cramped and it's hard to get around, but everybody enjoyed the food and no complaints about bland or not-quite-fresh food was heard throughout the night :) I was the photographer for the night so I had to do marvellous acrobatic stunts slipping between chairs a lot, quite good exercise for me! I think my belly might have flattened by 1mm :p
Kah Mun & Ken pouring the champagne, I got hit by a stray cork when Ken unbottled his second bottle of sparks, but at least I got good pics, whahaha, so pro, me!!!! :p
The obligatory entwined arms toast :)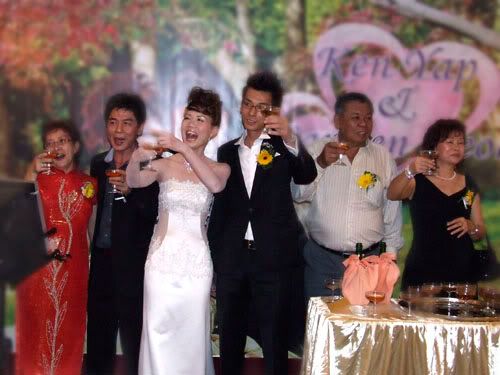 Toast to all guests!!! YAM SENG!!!!!!!!!!!!!
Asked to do a lip-lock on stage, this is how the couple spontaneously reacted: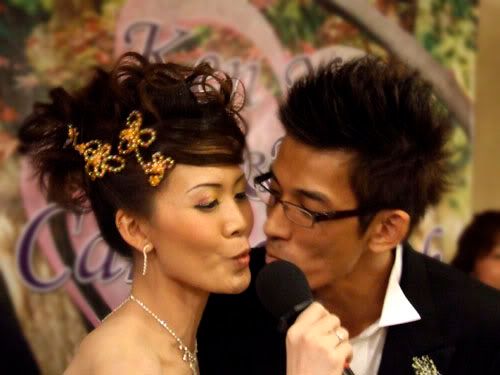 Mu-aks!!! Can you say mischievious and perfect pair? :)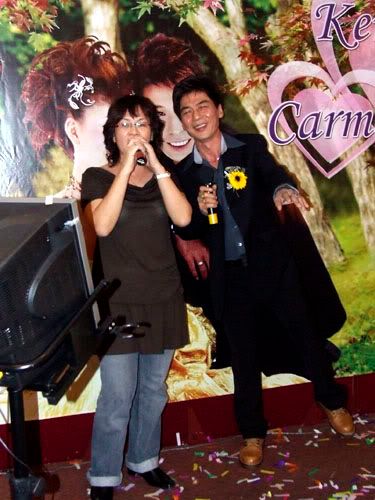 Mom & Uncle Yee on their second song rendition of the night! Most of Uncle Yee's friends are avid karaoke singers, and so are the other guests too, so there wasn't even one horrible karaoke performance during the whole night, everyone's a good singer!!
More YAAAAAAAAAMMMM SSSSSSSEEEEEEEEENNNNNGG!!!!! moments :)
Aunt May Lai was so happy she couldn't stop pouring drinks and toasting everyone!!! How could she not be happy? Her one and only precious daughter is finally getting married! Now all that's left is for Kok Wai to bring home to her a daughter-in-law :) *cough cough Kei Kei cough*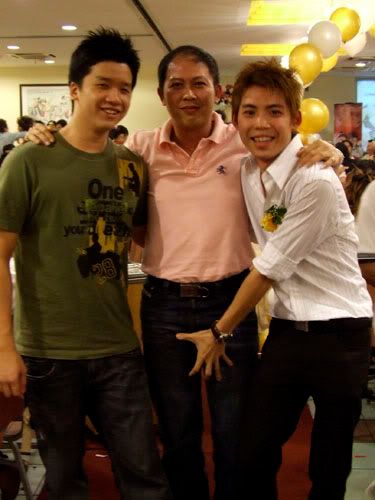 Me, Leong Yau & Kok Wai! It's the grope!! Glad I wasn't in the centre :p
I'm SUPERMAN!!!! You can see that the alcohol's doing its work hehe :p
Kok Wai, Kah Mun & Me!
Ken, Kah Mun & Me, a pic with the newly-weds!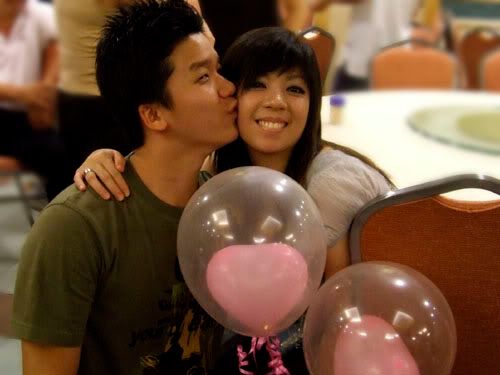 Me & Yen, Dad was actually still sober enough to hold the camera steady for me :)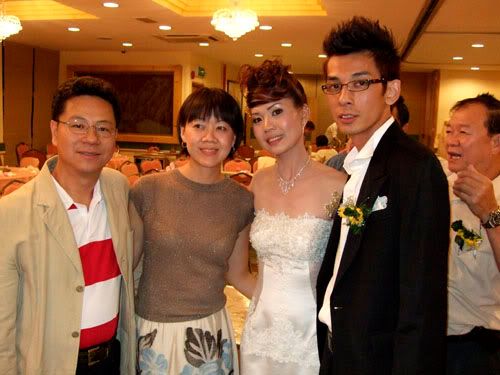 Uncle William & Aunt May Fung who flew with Krystal & Daryl all the way back from Hong Kong, just to attend the wedding!!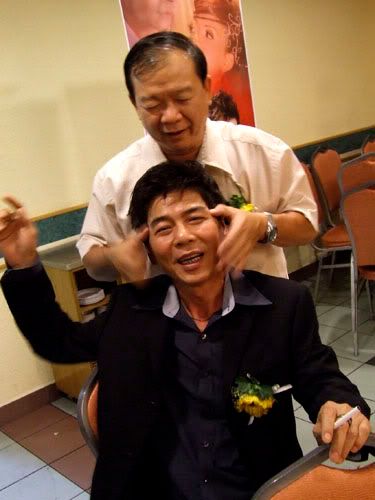 Dad giving the new father-in-law a massage :) It's funny seeing them now, 20 years down the road, you'll never believe the stories about how they didn't get along well at first :)
Aunt Mee Yin, Aunt May Lai & Uncle Yun. Uncle Yun came back all the way from the US too, haven't seen him since I was a little kid!
Me with Sis & Bro :) I had to grip his neck so he couldn't run and would sit still for this photo, heheh! Who said force & violence doesn't solve matters? :p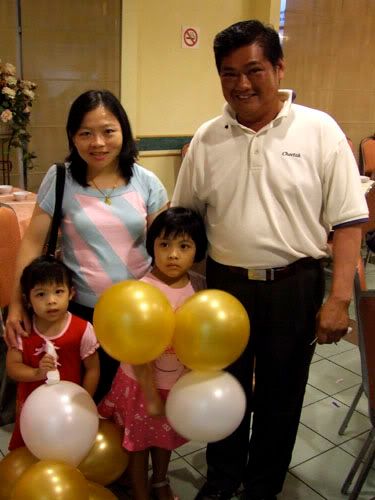 Keat gor gor & Xiang jie jie with their lovely daughters. Keat gor gor is like a brother to me & my siblings, looks after us a lot, even shares the same birthday as Bro :) He used to send me & cousin Chew Yee to school in a lorry everyday when I was in primary :)
Mom & Kok Wai :)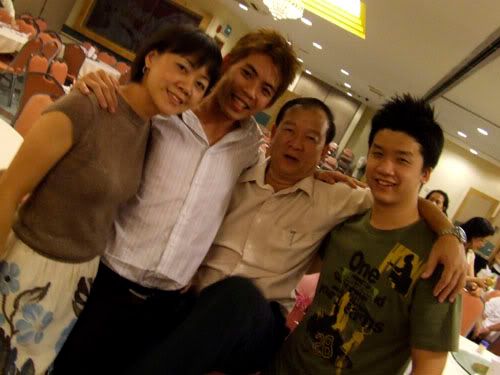 Yea, it's camwhoring time after the guests have left, for those of you who hadn't realised it :) There's just so much love in this family; it's not always you can see the younger ones and elders mix so well, like they're all friends, yet it's all here, all the time, say BAH to generation gaps!!
Kah Mun & Yen :)
One of the last pics I took for the night before giving my camera some rest. It's been a long, fulfilling and happy night! Everything went smoothly and everybody went home with smiles on their face. Beautiful night.