This is one helluva busy month, must be a good month too; weddings and birthdays filling almost every other day of the month :p It's bad enough already I'm fat, now my belly's expanding more with so many parties and dinners happening, this is so uncool. People are gonna add "fatty" in front of my name very soon, very very not cool.
Aunt May Fung, Uncle William, Daryl & Krystal are back for vacation from Hong Kong this week, and today's Daryl's birthday too, so we threw him a surprise party, another BBQ :p
Yen and Kah Wai at the grille, we had lotsa lamb chops and chicken wings today :) There were sambal fishes and mushrooms too, but I didn't touch those.
Sis and Daryl the birthday boy :)
The cakes!! Mom baked the icingless apple cake, Aunt Mee Yin bought the chocolate cake from Aunt Lee's!
Dad, Uncle Yee, Uncle William & Daryl, all celebrating their birthdays on different days this week! There are about 3-4 more celebrating their birthdays this week, but they weren't here, otherwise the whole table will be full with cakes again!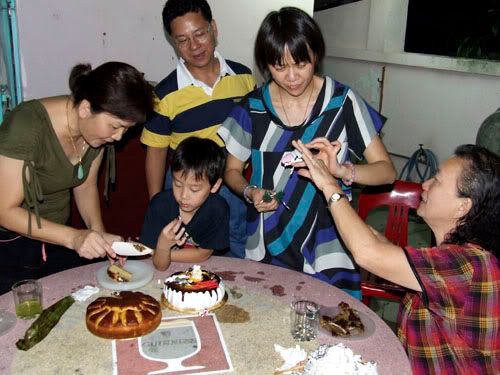 Mom distributing the cakes while Aunt May Fung and Aunt Mee Yin removed the decorations from the cake.
Kok Wai arrived late with his girlfriend, probably came from his future brother-in-law's home; more on this in 2 more days :) Lotsa happy stuff lined up till end of the year :)
Btw, I watched The Bee Movie today, it was ridiculously lame but also entertaining at the same time, I've got mixed feelings about it. And a friend who I lashed out at months earlier is speaking to me again; I wasn't in the wrong in the events leading to the fallout, but I did felt that I should have handled the situation better and not lash out at him instead. The fact that we've both said our sorries and agreed it's over takes a whole load off me. Happy stuff indeed :)