Sunday, 11th November was Dad's birthday, but he had a wedding banquet to attend at night so we didn't get to celebrate his big day for him. I did make him a card though, as usual :p I haven't used my C65 in months, and when I wanted to print the card after returning home from Nicky's party on Saturday night, it turned out that all freakin 4 ink nozzles are stuck!!! I kinda expected this, really, so I just woke up early on Sunday morning and went to the office for the print instead. There's a very good reason why I sayang the CX4700 so-so-very much; it's frugal, it's hassle-free and it delivers; Hi-quality water-proof prints with vibrant colors at a touch, baby!!
Dad, Sis & Bro were all still asleep when I got home, so I tucked in to sandwiches Mom made for breakfast, yummy!
Went to Aunt Lee's and bought a blueberry cake at about 1150 this morning, then I parked my car behind the office and sneaked the cake in thru the normally locked-from-the-inside back door, which I've thoughtfully unlocked before going out (sneaky me yea? wahahaha).
We cut the cake at about 1540, as soon as me & Bro got back from some errands. I asked everybody I saw around the office to come for the cake, but Uncle & Aunt Leong disappeared with Sze Yuin.
The birthday boy, very old birthday boy :p
Uncle Choo Seng helped us take a family pic, but it wasn't good; his hands shook too much. After numerous tries, Nur took over the camera, and got it right after a few tries, unfortunately, I closed my eyes just at that moment, making me look very silly :(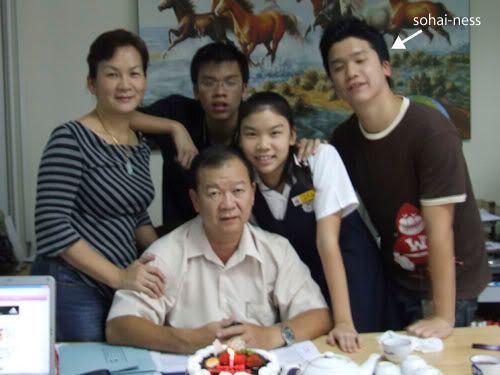 See what I mean? Sohai-ness :(
Halfway thru the blueberry cake, Uncle & Aunt Leong and Sze Yuin reappeared with another cake, a mango cake! Turns out they went to buy another cake from Aunty Lee's!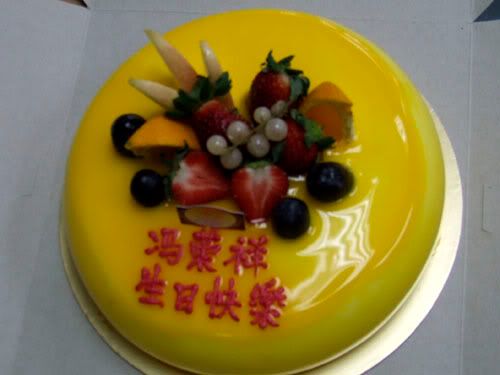 So there it is, no dinner no party no nothing this year, but at least there's a card and 2 cakes! Pretty tame & silent by Dad's usual birthday celebration standards, but this ain't all that bad :)
And oh yeah, I've finally met with Goh the TougeKing, Boy the TougeKid, Han, & Pui Yee tonight! Went for drinks at McDonald's earlier. They are really a friendly bunch, totally obsessed petrolheads too! So guys, if you're all reading this, it's cool meeting you all!