You have large toy cars, small toy cars, and then they are teeeeeny-tiny toy cars. Yen came over to see the snake this afternoon, and brought along her Q Steers. We played around with the cars a while, then I couldn't resist to take some pics, since it's all so cute :p

The Q Steers: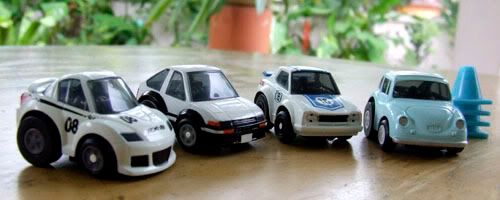 From left: my Mazdaspeed RX-8, Yen's AE86 Trueno & KPGC10 Skyline GT-R, and the Subaru 360 Ying got me for my birthday :)

This cars are really small; 2.5cm wide, 3.5cm long and about 3cm tall, and they're operated via remote controls with 4 selectable frequencies!

The cars and a typical remote: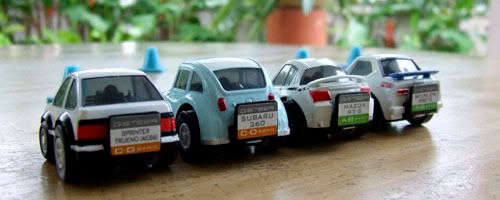 Each car has 2 operational frequencies, A & B, or C & D, selectable with a switch under the car!

Gymkhana!



There are also many other models to choose from, those interested can check
Takara Tomy's website
out. The cars are sold in most shopping malls or novelty item kiosks :) It'll make a great gift or time-waster :p