Yes, so it is, I can't really remember the last time I went on a trip with my friends, it's probably back in 2003 with Yi Keat, Torkhang and Dexter, back when we were off to Singapore to have fun, and take the GCE exams while at it :p Then there was National Service in 2004; it was nothing less than a long, fun, and meaningful trip to me (trust me, NS IS FUN when you can bring luncheon meat and keep your electronic gadgets around). Btw, this is gonna be one long post, so if you're planning to read thru it all I suggest you grab a mug of nice warm Milo and a pillow, just in case.

Dorkiness, ugliness and un-popularity aside, I DO get invited to trips with friends ok, it's just that numerous factors made the trip not happen for me. Flashback to the yumcha session 2 Friday nights ago, and I was called to join a short trip again; I wasn't really up for what had initially sounded like a 2-day shopping spree, but Yen wanted to go badly, so before I could say "I-DUN-WANNNN!!!!", I was on the 1930 bus to KL the next Friday with Yen, Poh, Ivan, Ying, Wendy and Shen. Sauw Leng was supposed to go, but didn't, in the end :(

These guys are yumcha creatures, I tell you, they yumcha a few times everyweek or so, rain or shine, and the first thing I heard after dropping our stuff at Ying's place a little past midnight was "YUMCHA!!!!!!" *faint* So yumcha we went, Poh got a new toothbrush from 7-11 at 0200 in the morning, after tea, and it was nearly 0300 when we all finally had our baths and called it a day.

Right, so after me, Poh and Ivan woke up at 0700, Saturday morning, took baths, watched Ranma 1/2, and waited for what seemed like another day for the girls to get ready, we were off to KLCC after breakfast at SS2.

We visited Aquaria KLCC, and got lucky; it was feeding time, and we got to see interesting stuff we would have otherwise missed:


Rays and mini sharks latching to the edge of the wall for food! Who would have thought? We got splashed quite a lot, but it's really interesting to see all the fishes swarming around and latching to the side of the pool, waiting to be fed, I've never seen anything quite like this :)

So, at Aquaria and other oceanariums, you'll see fishies, tourists...


really boh liao tourists, like this bunch :p,

the random reptile..., a large toad, this measuring 5 inches wide 7 inches long, and about 5 inches tall too



and..


MONKEYS???!!! The last time I checked, monkeys lived in zoos...!
Me, Yen, Wendy, Shen, Poh, with Ying and Ivan up front!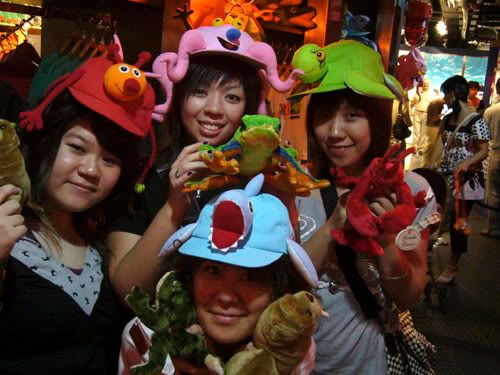 Growing up? Whatever that means...



I can't believe that Yen and the gang will pay RM28 for this pic, when we could have did it so much better ourselves, but I guess it's the moment that counts :p

The rest of the day was spent running thru LRT, Putra and KTM stations and taking cabs to places. Me, Ivan and Ying got ripped off by a stupiak Perdana V6 "Premier" Cab after having lunch at RakuZen; 30 bucks from Hartamas to KL Sentral, and the first thing the driver did was do a U-turn and take a long route, claiming traffic was a crawl on the shorter way! The only thing "premier" bout it was the cheap perforated leather seats ok. Damn, I bet even the driver's shoes has better leather in the soles, and I think I know where the money came from; clueless people like us! Darned stupid of us to take the cab too, the rest of the gang just paid 7 bucks for the same trip in a normal cab, and Poh said traffic was OK on the shorter route, GAHHHH! Oh well, let that be a lesson to us, not that I'll be taking the public transport much too, I normally drive, it's just different this time, and it was raining that day, so we just jumped into any cab that will take us.

We nearly emptied our wallets at Sungei Wang Plaza on clothes and food, seriously, but there wasn't much moolah in our wallets to begin with :p

The next highlight of the trip was visiting Eye On Malaysia. The gondola was rented by our dear tourism ministry for Visit Malaysia Year 2007, and the initial plan was to have it on until the end of this year, after which it shall be disassembled, which explains why the stalls, speakers and toilet around there feels so makeshift. This is also the reason why we wanted to visit it badly, it's like now or never, though I doubt the ministry will take it down, being the moneymaker it is.

I didn't know Yen was afraid of heights, not until she started crying when we were at the top, anyway, silly girl :p



All it took was a few more minutes for her to get used to the feeling, and a camwhoring session, and she's all smiles again:



100 bucks for a whole carriage, not pricey at all, considering the ride lasted 20+ minutes, pretty worth it if you ask me, and it's got cabin lights and air-con :)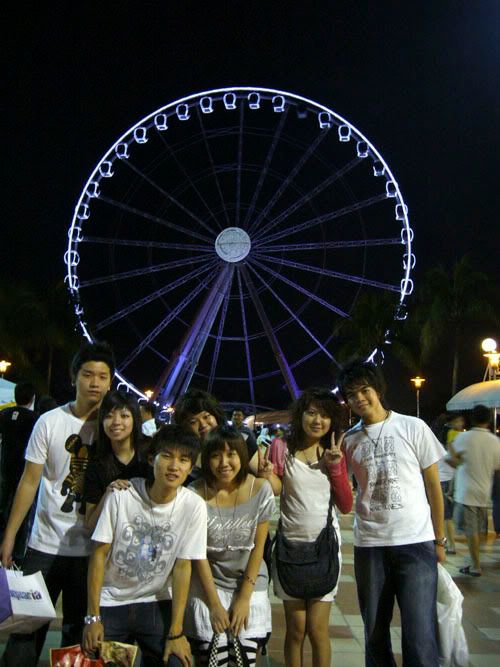 The bunch of us at the bottom, after the ride.

After a long commute back to Ying's place, some rest, a bath, and the clock pointing somewhere around 0130, it's yumcha again! On my suggestion, this time :p. The waiter at the mamak stall impressed us; he managed to remember most, if not all, of the stuff we ordered the previous night!

We spent Sunday morning walking around Mid Valley and did a little shopping, but that's all. We headed back to Ying's place at about 1500 to get ready for the journey home; this involves lugging our bags, sleeping bags, and junk food from Ying's home to the LRT station, where we held on to em' in the LRTs from Taman Paramount to Pudu bus station, hogging floor space. Sounds fun? Try it yourself.

Our bus was scheduled to leave for Ipoh at 1730, but I sensed something amiss when Ying noted that the sign for the Ipoh bus wasn't displayed at the counter even when it's already 1710. That's when I discovered that the bus had changed pick-up location and will be departing from Jalan Duta! Lugging our stuff, we were hurried all the way and got on another bus to Jalan Duta, and barely made it on time! Damn kan cheong, and it wasn't even worth the excitement, as the bus left about half an hour late, at 1755, in the end, so we tortured our hearts and wasted adrenalin for nothing :p

I don't enjoy shopping much, but I say, I'll regret it if I didn't go along, it's just so much fun to go places and do stuff with friends you can get along so well with, especially when you haven't got to see each other much lately!

Ying made a video compilation with our old and new pics too! So here it is:

Just ignore the grammar mistakes, hehe, it doesn't matter :p

That's all for now! Thanks to my friends for a great time! I enjoyed the trip immensely :)