I was at the MotoGP event on Sunday! Chuen Kor drove the Transit all the way to KL with me, King, Dad, and Uncle Seng while Uncle Cheong and Yew went in his Myvi. We set off at 0600 and stopped at the Kampar marketplace for breakfast, then met up with Uncle Eddy at his Taman Mayang home. Uncle Eddy hadn't had breakfast so we had a second round, dim sum breakfast at King Crab Seafood Restaurant, the food was quite good, and comes in generous portions too! After that, we set off for Sepang.



The entrance, packed as usual.



Uncle Cheong & Yew with a Kawasaki ZX14. There are 2 versions to this bike; one is the chain-driven sports model in this pic, while the other is a driveshaft-driven GT model with more journey equipment and storage cases. I couldn't get a good shot of that one as the pretty model is standing there and everybody else is clamoring over there :p

It was already 1100 when we arrived, and some of the races have already started, so we didn't waste much time at the stalls this time :)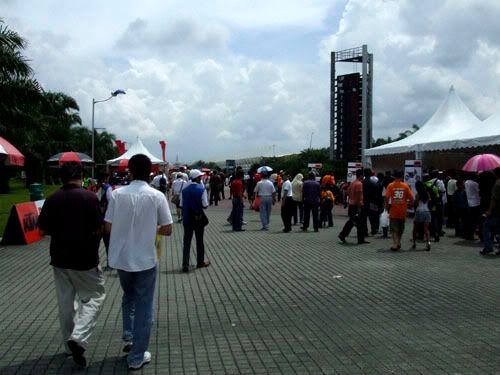 Inside the main grandstand.



RM999! So cheap!! Very tempting! I didn't notice the price until I got back and looked at the pics. I'm guessing these are lawnmover engine powered models, with no proper transmission, still, it'll be loads of fun to ride!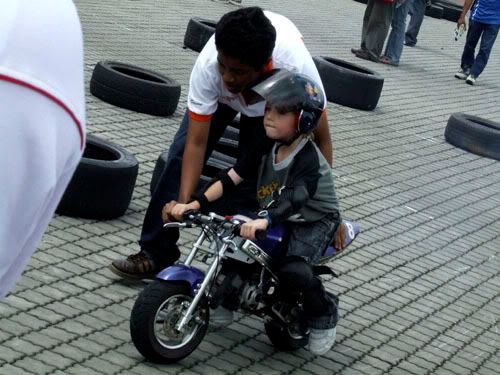 Cute kid riding a minibike. Even bikes this small have disc brakes nowadays, guess you can't call em kids' toys anymore.

Apart from the many manufacturers showcasing their latest models, there are quite a few interesting rides belonging to spectators who've come to witness the race;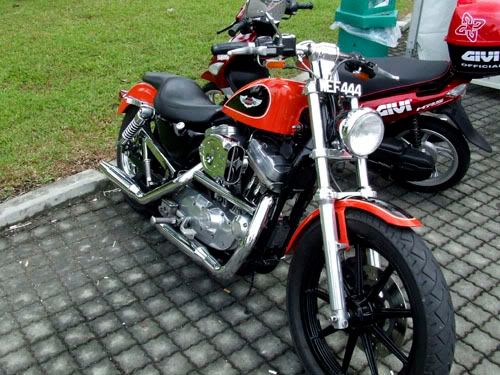 See the sidemounted carburetor? It looks darn badass, but I'm not sure it will be good for the bike in the rain :p There was one point when I considered naked air filters for my GT750 for that racy sound and look, but opted against it for reliability's sake and fitted a custom stainless steel intake box to it in the end.



A late model Suzuki GSX1300R Hayabusa! The fastest ever stock standard production bike in history! My favorite, this used to be my dreambike back when I was really, really into bikes :)

I didn't notice it at first, but then Yew pointed it out to me: Leather fuel tank covers, now this is very cool! Looks pretty purposeful and well-made to me, so I'm guessing it's OEM stuff. No ugly scratches and petrol stains on the fuel tank for this mean monster :)



The BMW M6 Coupe safety car, I've liked it a lot since I first saw it at last year's MotoGP :)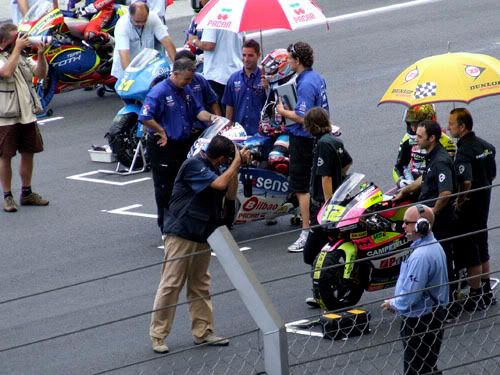 Before the 250cc race starts.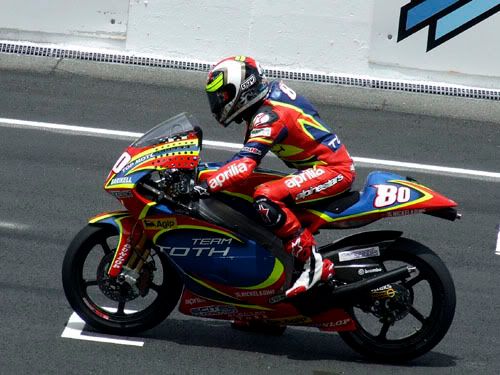 Notice the bike's front cowling? I find the holes interesting, I wonder if the holes serve any purpose and if they actually increase drag... Brake fluid cooling, perhaps, but wouldn't it be more efficient to install cooling ducts directed to the brake fluid reservoir itself instead? The engineers must have reasons layman like me don't understand :p



The 250cc class champion, he sure had a spectacular run!

After the 250cc race ends, comes the turn for the most anticipated race of the day, the 800cc class! My camera's 10x zoom proved inadequate for good shots of the pits from the stand, but I managed to snap a few decent shots :p



Valentino Rossi's Yamaha being prepared, like the new race livery.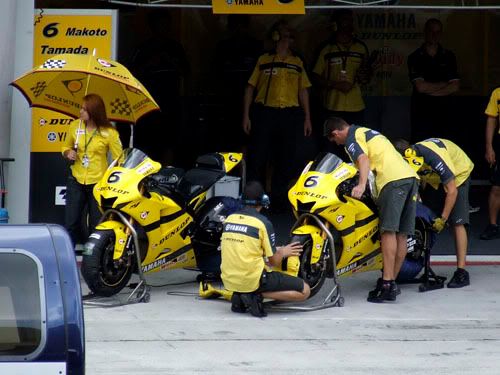 Another 2 similar Yamahas, I like the simple yet striking yellow & black combination.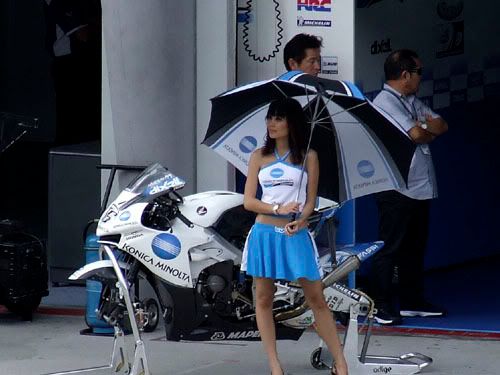 Confidence is when you leave your bike hanging without wheels, just like that, while the other teams are all moving out to the starting line, 7 minutes before the race starts...



Nicky Hayden, another favorite; his battle with Rossi at Sepang last year was an intense one, they fought from start to finish, keeping everyone on their toes!!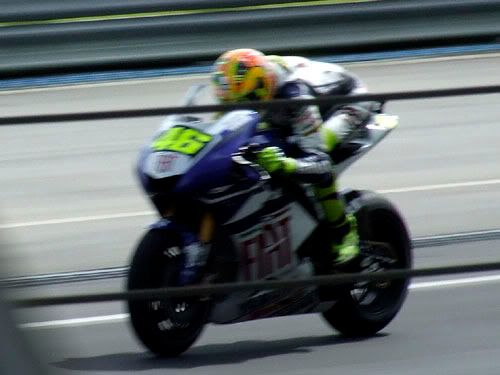 And the man himself, Valentino Rossi!!! Too bad my panning skills have deteriorated significantly this year, my one best shot of him wasn't even near decent.... :(

Alas, the 800cc race was pretty boring this year, Valentino Rossi started 6th and climbed up to 5th, remaining at that position throughout the race, and Nicky Hayden got beached towards the end, what a disappointment !

As the 800cc race ended, most of the spectators rushed off for a glimpse of the podium ceremony, while others leave, not interested in the local races, which is a shame, really. I guess most just aren't interested in grassroots racing, which is understandable, due to the lower standards and lack of excitement, but they'll be missing out on a few stars that stand out.



Uncle Eddy's son, Keat, racing on the green Kawasaki in the 150cc race. He isn't riding his orange Ducati this year; this Kawasaki is a loan from a Chia Motors (Uncle Eddy's motor shop) customer who is sponsoring him :)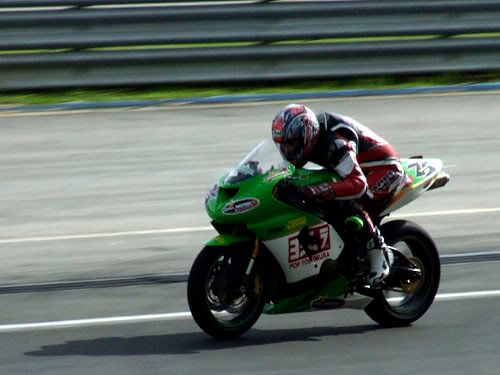 Keat zooming past on the 150cc Kawasaki...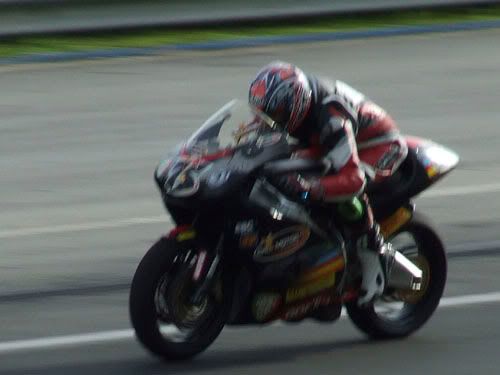 ...and here he is again! This time on a larger bike, 600cc, I think, in the next category race. Keat's pretty good; he'd pulled away by more than 50 meters by half of the first lap, and he's more than half a lap ahead from his competitors by the end of the race!!! I think being a circuit veteran helps, that, and the fact that he had pretty much warmed himself up in the previous category race, coolness :) Yea, needless to say, he won, of course, by far!

We watched the last Kawasaki and production bikes race before leaving. I managed to take another shot of the M6 Coupe with it's M5 brother during the race:


I would have liked it better if the M5 was behind the M6, allowing me clear shots of the M6 instead, oh well :p

From front left; a camera-shy King running away, Uncle Eddy, Uncle Eddy's son Weng, Uncle Seng, Dad, & Chuen Kor.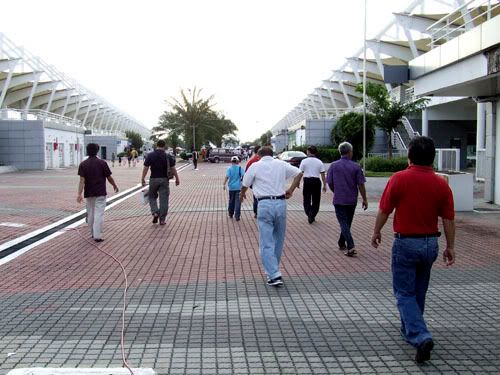 The mostly deserted grandstand... not many stayed behind for the local races.

Yew drove back to his dormitory at Nilai by himself after the race. The rest of us had bak kut teh dinner at Subang Jaya, as per Uncle Eddy's recommendation. The service was good, and Uncle Eddy seemed to worry if we were famished, since he ordered so much food!!!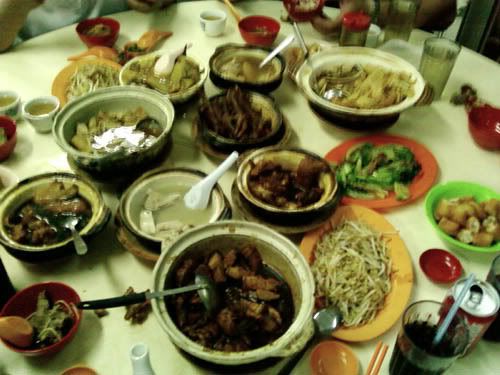 The food for only 7 of us..

After dinner, we dropped King at his rented home, and sent Uncle Eddy home before heading back to Ipoh.

Oh, yea, Monday evening was a rainy one, and I released the snake I caught earlier into the bushes near the back of a rarely-used road. Hope the snake does ok, I doubt it'll ever get to bite anyone there, hehe :p