I finally did it! At first I thought I'm never gonna get my lazy ass around to post pics from my Bali trip, but with assignments and work out of the way, I'm actually in the mood to post now! I took lotsa pics that I wanna share, so I'll be separating it all into different posts to make it easier for kindly visitors :)

18th August, arrived at Depasar airport around 8 at night, we hired a cab to take us to the resort, it's in Candidasa, about an hour's drive away so we had dinner at KFC on the way. I'm surprised, Bali time is actually the same with Malaysia!
The resort we're staying in:

Day one:


Flower arrangement demo by the jacuzzi



The view from our suite entrance, nice eh? I just stand at the door and there I have the pool, jacuzzi, beach, and library in front of me, the restaurant's just around the corner. It's the best suite in the whole resort, how lucky!!

The garden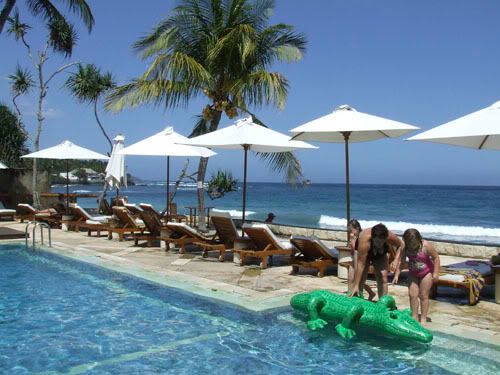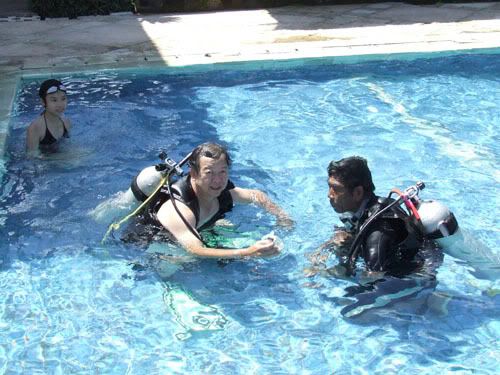 Dad learning how to snorkel. It was pretty easy, Sis and I had a go too!



Lunch, Sis's fried noodles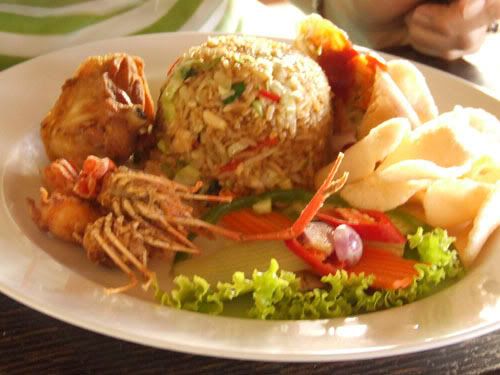 Mom's fried rice with prawns and crackers



My order of spaghetti with parmesan cheese, lotsa salmon and smoky bacon! Absolutely delicious, this!



Dad wanted something spicy, so here it is!



Bali calendar making, this guys' very skilled, and he's a nice chap too!

After lunch and watching the guy make calendars, we set out for walks around the village at about 5pm. Candidasa is a nice place; it's a secluded village and there aren't too many tourists around, so you'll feel at ease and need not worry about bombs! The sights are great too. Also notable are the locals; people here are generally very, very cheerful and friendly, you see smiling faces everywhere. It's very hard to be pissed off here, even when we've been overcharged for a ride in one of the local taxi-vans :) The atmosphere in Candidasa is really soothing. I love this place!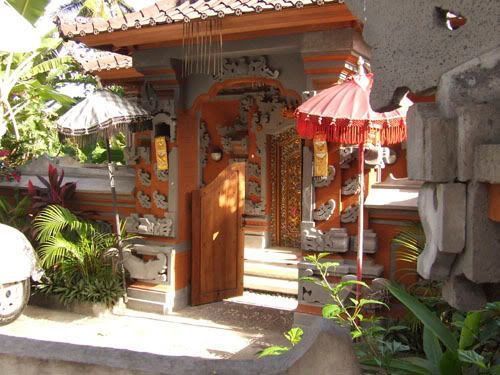 Around Bali, orange-colored walls and grey decor details seem to be the trend; you see a lot of buildings such as this one around, not complaining though, I find it rather simple and tasteful! Definitely way better compared to how the Chinese and Indians here like to throw all available colors from the ICI palette on their sculptures!!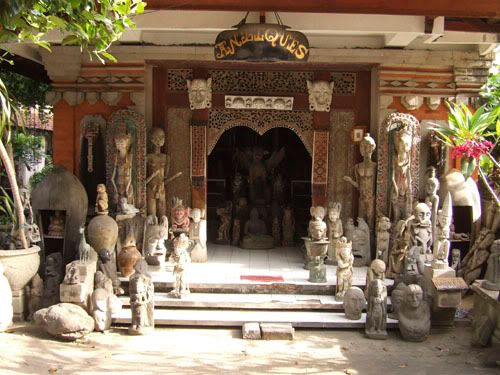 Kinda reminds me of Thailand...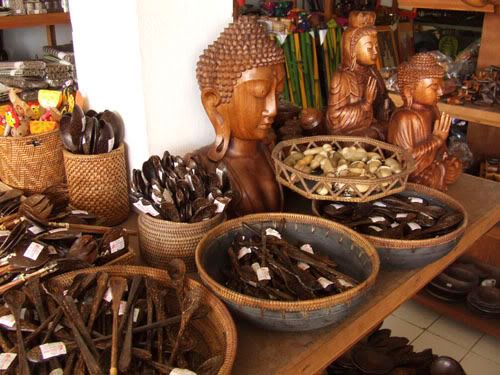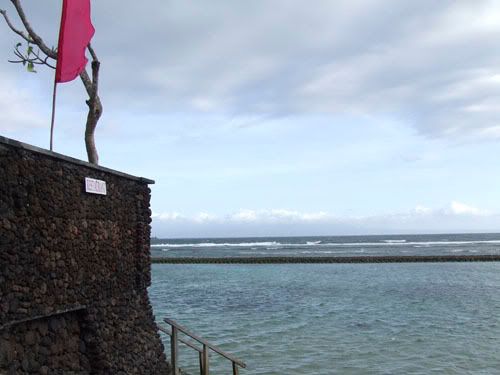 The sky darkens early here, starts darkening about 6pm and all dark by 7. We had dinner at one of the many warungs by the road, the food and drinks sucked big time; the meat's bland and tasteless, the drinks are thin and there's powdery stuff in my coffee, eugh. It's all Dad's fault! He was lured by the cheap beer, really cheap! How does RM4 for a large bottle sound? Oh, and they provide us with free transport back to the resort after dinner too. Top that! When we returned to the resort, there's a BBQ thingy going on, as well as a Barong dance performance, didn't enjoy the show though, it was terribly boring :p



Mom lounging by the pool after a long day


Barong dance, it's about as interesting as waiting for traffic lights to turn green.