Not really, pretty close though; just short of underbody aero pieces and number plate now.



I avoided taking pics from the left side. Why? I screwed up on the headlamp cover, as I earlier said, heart still aching :(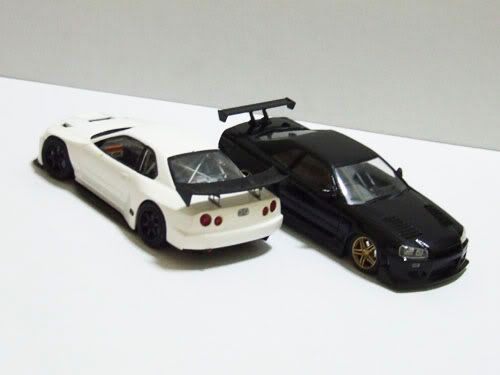 C-West R34 with it's Super GT brother, the Pennzoil Nismo GT-R. No decals, not gonna put em on, never liked stickers :) It also lacks the side mirrors, not putting it on yet, I might rebuild this one again; bodywork and paint's horrible :p



A peek at the next addition to my collection, it's a Honda Today, charming little car :) I've liked it ever since I saw Kobayakawa Miyuki's patrol car in You're Under Arrest! I'll get my hands on the Bandai kit if I ever see it; that one's the patrol car version, including Tsujimoto Natsumi's MotoCompo, with plastic figures of the two ladies!! Anyway, I got this kit and started it on Friday, could've completed it yesterday but paint chipped off near the front of the hood, it's nearly fixed now. And NO, IT'S NOT A KANCIL!!



Yen got this on Friday, along with my Today, it's an old discontinued kit of the Alpine A110 1600SC ! I like this kit a lot; it's got detailed suspension parts, ladder frame, engine, exhaust and individual throttle bodies!!!! And it only cost RM70!! What a steal!! Have to build it for Yen soon, but not gonna go fast this time, I'll have to be patient and not destroy this beauty :)