Yen called me at about 12pm today and asked if I'd like to go watch Harry Potter and the Order of the Phoenix with her and some friends later in the afternoon, too bad I'm was busy then and haven't got a car for my use today. In the end, she went and watched it with Trisha, Suzen and Ivan.
Come to think of it, it's weird how I've been a fan of Harry Potter since year 200x (probably 2000) when Aunt May Fung gave me the first 3 books in the series (there were only 3 books out then, not that my dear aunt is stingy) as a birthday present, but I've never even watched one freaking Harry Potter movie.
Read: dork, unpopular, nobody will ask me out for movies then, not much better now, just not so dorky anymore. And you don't go catch movies at cinemas alone, do you?

After getting my first taste of Hogwart-sy magic, I was addicted, bought the following books and devoured them lovingly, page by page, spreading the addiction to my brother and a few friends in the process. Most of my classmates then were like "Huh, you reading a kiddy book ar? Grow up la!" :( These are the same buggers who became fans of the series after the hype started with watching the first movie and borrowed my "kiddy" books for reading later on :p That was about 5 years back.
Now, the final book will be released on the 21st, just 2 more days away. How better to fully prepare yourself for the arrival of the ultimate and final chapter in this epic series than to, say, re-read the other 6 books to refresh your memory of the Potter-verse and renew your anticipation, you ask? Well, I thought so too, until I took the books out of the shelf and stacked em up: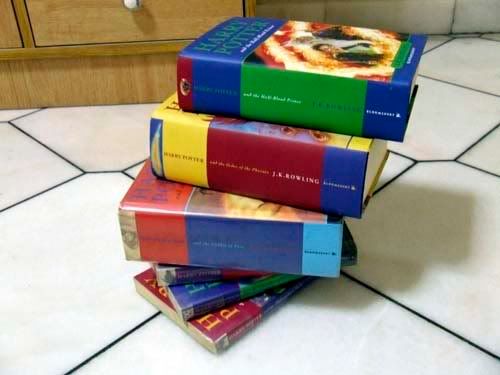 My Harry Potter books, they stack up so freaking THICK!!!
Once I looked at the foot-high stack, I know that I'll never finish it in time for the 21st. Siao meh? How to finish so many books in such a short time? I guess I'll just leave em alone and hope I haven't forgotten too much of the earlier stories :p Until the last book comes out, I'll be biting my fingernails and toenails in anticipation. Or maybe I'll go buy pirated DVDs of the 5 movies and watch em all to catch up on what I've missed. You know what they say, you can't call yourself a true fan until you've caught the stories in their on-screen glory.